Australian Made Retractable Patio Awnings
Living in Sydney, you want to make the most of the Aussie Sun. Summer BBQs with friends and family are always fun and a great way to celebrate the season. If you're planning to use your outside area, you will need to make sure it is protected from the harsh sun. Aalta's Patio awning is a sleek, modern retractable awning that provides excellent shade. With a number of design options, why not let Aalta guide you on the best possible retractable patio awning at your Sydney home or outdoor space and let the magic transform your outdoor area!
Difference between Retractable Patio Awnings & Retractable Roofs
Retractable Patio awnings and retractable roofs are excellent shade systems. Both retract to allow you to open up your outdoor area during beautiful summer nights or to maximise the warm winter sun. If you are considering either option, here are a few key differences that may help you decide which retractable shade system is better for you.
A retractable roof is an openable roof system that concertinas back to open up the roof area. The membrane is made of a water-proof PVC coated polyester fabric and travels along a light weight track system. The roof is supported by a pergola type frame that is either made of timber or powder coated aluminium. It can also be fitted to existing frames. When extended, the roof is held under tension making it extremely resilient to high winds, heavy rain and of course sun. Because of this, it can be used to create an outdoor living area, enabling you to use your deck, balcony or courtyard in most weather conditions.
Retractable Patio awnings are ideal for protection from the sun and light winds. The fabric is either a pvc mesh or a solution dyed acrylic fabric. The awning can be mounted over glass roofs, pergolas or on patios and courtyards. The membrane extends and retracts along guide rails or cables and completely rolls up inside a head box, creating a neat, clean-lined structure over the area. Patio awnings do not come with posts, however, Aalta can design and construct the supporting structure if required. Whilst the Patio awning is not to be used in heavy rains, it is a more cost-effective solution to your outdoor needs.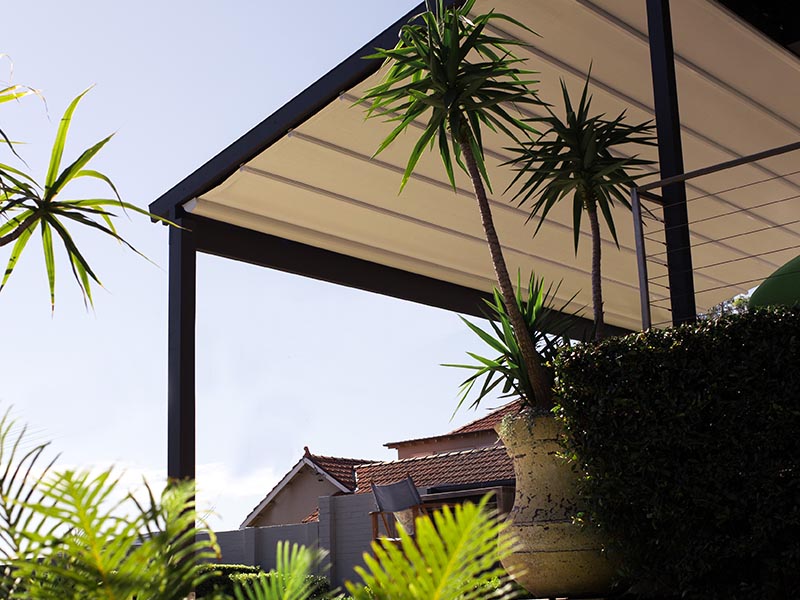 Browse Our Retractable Patio Awnings
At Aalta, we understand the benefits of retractable patio awnings for our Sydney clients – and we offer two customisable patio awnings. The VZ520 extends along side tracks which are made from extruded aluminium and powder coated to suit the surrounding building, whereas the BT520 runs along stainless-steel cables, providing a lighter-weight structure.
4 Benefits of Retractable Awnings in Sydney
Here are four top benefits retractable awnings can offer you.
Great sun protection: our Patio awnings are designed to intercept the harsh Australian sun rays before they hit your outdoor space, providing you with shade and comfort.
Enjoy your outdoor space with your family and friends for more months in the year. With a Patio awning that reduces the heat experienced outside, you can make the most of the Aussie summer and invite your friends round for a BBQ – with no worries about being in the hot sun all day!
Easy to maintain: unlike other types of home improvement projects, retractable awnings require minimal maintenance. Not only are they easy to clean, but they are also durable and come with a five year warranty.
Extends living space by providing you with the opportunity to use your outdoor area on those hot summer days – which also makes it easier to entertain your family and friends!
Why Choose Aalta
Aalta Australia has provided custom-made awnings, retractable roofs and patio awnings in Sydney for over 40 years. We are focused on creating beautiful outdoor areas that will enrich your quality of life – because in our eyes, outdoor spaces matter! If you're interested in creating an aesthetically pleasing and functional outdoor area, contact us today. We will stay with you for the whole construction process, from enquiry to finished product, during which we will assist with the design and layout to ensure that your outdoor space will be transformed to truly meet your needs. Aalta can build you your dream outdoor space – contact us today on 02 8065 4911 for more information for awnings Sydney.
Out of Office Hours? We will call you back.