What you need to know about
retractable outdoor awnings
If you are planning to use your outdoor area, then you are most probably in need of some weather protection!
We understand there are many options available and it can be difficult to know which awning is best for you.
Here is some information that will help you find the best shade solution for your outdoor space.
We have now cut-off for pre-Christmas deliveries! 
It's been a very busy month and due to a large number of projects, we are now at capacity to deliver prior to Christmas.
We still want to hear from you, so feel free to contact us, and we will work towards having your  retractable awnings and shade systems delivered and installed early 2024.
How do I know which retractable awning to choose?
There are many factors to consider when looking at what type of awning is suitable for your home or commercial building.
Here are four questions to ask yourself that might help you decide.
1. What function do you want your awning to provide?
- Do you want to use the awning to protect your outdoor area from the sun, wind, and rain so that you can create an outdoor living area? If so, a retractable roof or a zip patio awning might be better options.
- Do you only want to shade your outdoor area? If so, a folding arm awning, patio awning or shaderunner would work.
2. What size is the area you wish to cover?
-Think about the width and projection of the area – this will help determine the type of awning you need
-A small area would be okay with a folding arm, patio awning or a shaderunner
-For larger dimensions, retractable roofs and shaderunners might be better as they can span bigger areas.
3. What is your budget?
There are many factors contributing to the price of an awning. These include:
- The type of awning required – retractable roofs and Zip patio awnings are premium products. Folding arm awnings, patio awnings and shaderunners are generally more cost-effective. However, these will vary depending on a number of factors listed below.
- Dimensions – width and projection. Whilst the bigger awnings are more expensive, the cost per square metre is usually less!
- Whether it is manually operated or motorised and if motorised are there any sensors required?
- Whether a frame, beam or posts are needed to support the awning
- The finishes of the awning, such as fabric and powder coating
4. Are you looking for a manual or motorised awning?
- Many awnings are easy to operate manually with either a crank handle or rope and pulley.
- For even easier operation, motorising your awnings enables you to open and close them with the touch of a button on a remote control or even with your phone!
- Motorised awnings can also be fitted with rain, wind and sun sensors.
Below is a table which might help you decide which awning is right for you. But remember, there are different options available so it's best to discuss this with your awning specialist.
features of the 4 most popular types of retractable outdoor awnings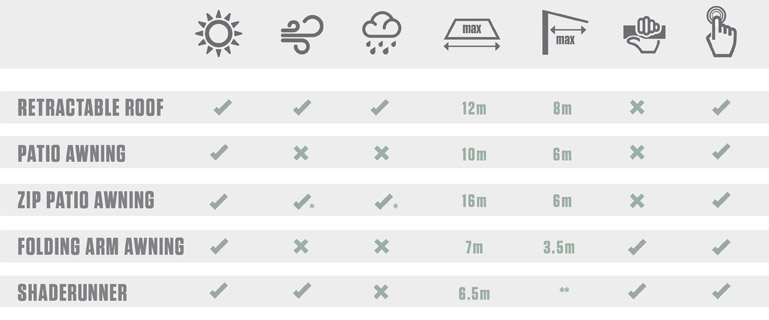 WHAT ARE THE DIFFERENT TYPES OF RETRACTABLE AWNINGS?
Whilst there are many types of awnings, here is a little bit about the four most popular types retractable awnings that we recommend for sun, wind or rain protection for your outdoor space.
As the names suggests, folding arm awnings have at least two arms that extend and retract the awning fabric. The best thing about folding arm awnings is that they don't need any posts or beams to support them, so that when they're retracted there is only open sky above you!
Why choose a folding arm awning?
These retractable awnings are perfect for providing shade in outdoor areas such as courtyards, patios, decks, verandahs, and gardens.
Folding arm awnings don't require any pergola, posts or beams to hold them up! So, when the shade is no longer required, they simply fold away neatly, out of sight and there are no structures to obscure your view or outdoor area.
Apart from providing shade, they're also great for creating an outdoor entertaining area where you can enjoy the company of friends and family outside but be protected from the heat.
For cafes and commercial areas, the acrylic canvas provides the ideal space for branding so you can make your establishment stand out and shade your clientele as well!
Can folding arm awnings be used in the rain?
We are asked this question regularly! Folding arm awnings are a sun shading awning and are not suitable for heavy rain. If the slope is less than 14 degrees, they will pool water along the front rail, putting too much weight on the awning. This will can cause ripping of the fabric and damage to the mechanical components of the awning.
If the awning is motorised, rain sensors can be mounted to your awning, so that when it does start to rain, this device will retract your awning, so it is safe and sound.
How do folding arm awnings work?
The roller of the awning is mounted to the building – the roller is usually encased in a head box to protect the mechanisms and fabric. Although if there is an eve where the awning is to be installed, this may not be necessary. The awnings rely on the spring-loaded arms to keep the fabric tight as the awning is extended. When retracting, the arms fold up, pulling the front rail in whilst the fabric rolls up neatly back onto the roller, hidden away into the head box.
The awnings can be either manually operated with a crank handle (up to 6m wide) or for ease of use, motorised with remote control operation. Sun, wind, and rain sensors can be fitted to motorised awnings, so you don't have to worry about forgetting to retract the awning in bad weather, when you're not home!
Can folding arm awnings be used in the wind?
Basically, don't leave your awning out in wind loads greater than 35 km/h or 5 Beaufort (Wind Resistance Class 2). This can cause severe damage to your awning. This wind loading is a guide only, so it's important that if you feel it's too windy that you retract your awning immediately. After all, most of us wouldn't know what the wind speed is!
The best way to make sure your awning is safe is to install a motion sensor. This little device will detect the movement of your awning and if it's starting to bounce around past it's set limit, it will relay this information to the motor and tell it to retract!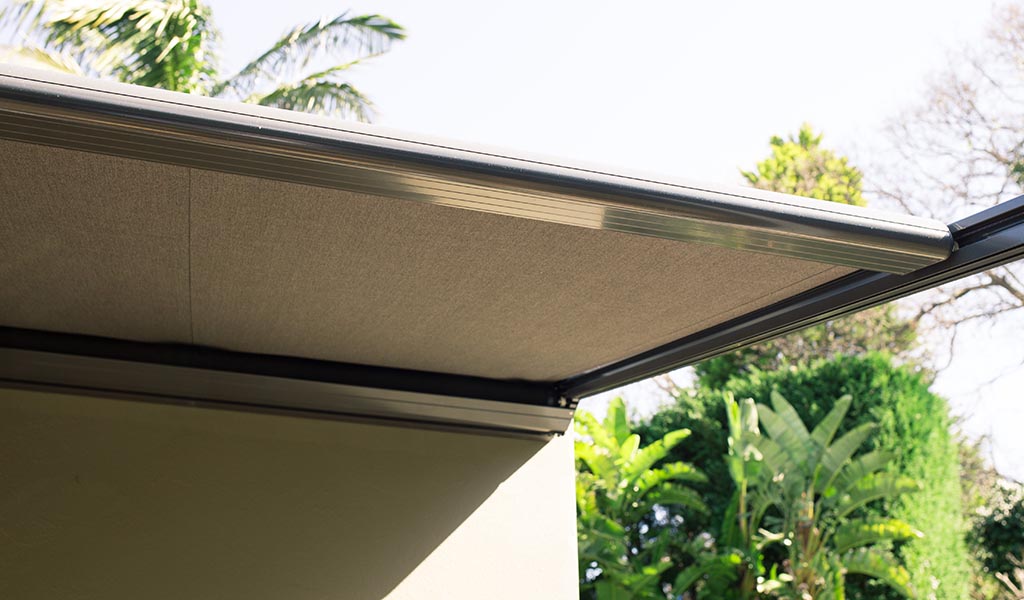 Aalta's Patio awnings (also known as conservatory awnings) are a stylish, sleek retractable awning that extends and retracts along two side rails and rolls into a neat headbox.
They're perfect over pergolas, patios and glass roofs to reduce the sun's glare and heat. The components are contemporary and unobtrusive and can be powder coated to match the existing finishes of your home or commercial space.
Why choose a Patio Awning?
Clients often ask us how they can shade their new outdoor area after installing a pergola, a glass conservatory or a poly carbonate roof. The Patio awning is a contemporary designed, motorised retractable awning that sits neatly over such structures or over pergolas, decks, balconies or gardens.
The awning provides shade by intercepting the sun's harsh rays and reflecting the heat to keep the area underneath cool.
There are different types of Patio awnings available that offer a range of weather protection – all types are great for shade, but some models are also ideal for withstanding rain and high winds. Whichever model you choose, you can create a beautiful outdoor area without compromising your aesthetic as these awnings are slimline and discreet. When they are retracted, it's like there's no awning overhead at all!
How do Patio Awnings work?
The awning is rolled up in a roller box (or head box) fixed to the side rails. The fabric is pulled by the front rail, which is kept under constant tension and travels smoothly along the side rails as it is extended and retracted.
Patio awnings are motorised with a tubular motor that is discreetly hidden in the roller tube that the fabric rolls onto when retracted. You can operate it via a remote control or for those of you who enjoy smart houses, our motors can be integrated with your home automation system.
Sun, wind and rain sensors can be fitted to Patio awnings, so you don't have to worry about forgetting to retract the awning in bad weather, when you're not home!
Can Patio Awnings be used in the rain?
Yes and no! It depends on the model, the pitch of the installation and the type of fabric used. Here's a quick snapshot of the different models and their rain resistance…
Standard Patio awnings – definitely no! If the awning is rolled out in the rain, you risk accumulating and pooling water on the surface of the fabric. This increases the weight of the fabric and can cause ripping and breaking of the mechanical components.
Zip Patio Awnings – if the pitch is 14 degrees or greater and the fabric used is waterproof, then yes! But you still need to be careful in case of a very heavy down pour. Your best 'insurance policy' is to install a rain sensor so you're never caught out in the rain!
Can Patio Awnings be used in the wind?
The wind tolerance for the patio awning depends on the model type. Here's the wind resistance limit for the different models:
VZ520 up to 35km/hour
Zip Patio Awnings up to 49km/hour
As these awnings are always motorised, your best bet is to have a wind sensor installed onto it if you are in a high wind area. This gives you peace of mind, knowing that if the afternoon gets windy, and you're out, your awning will automatically retract safely into its head box.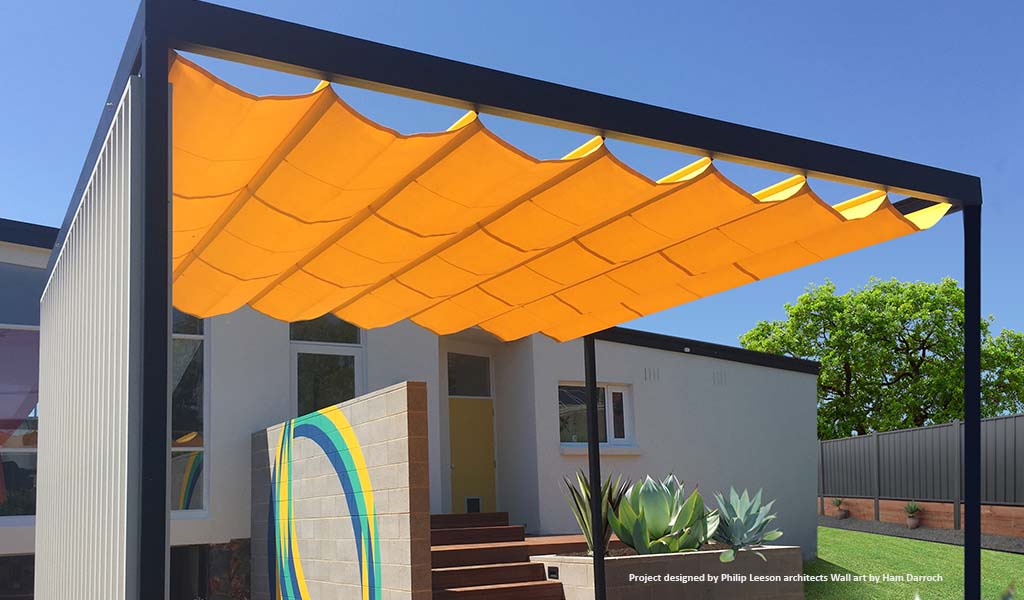 The Shaderunner® is an attractive and cost-effective retractable shade sail that extends and retracts along stainless-steel wires. It's like a roman blind but concertinas back and forth horizontally, not up and down! With a Shaderunner ® you can take control of the amount of shade you need with a simple cord operation or with a remote-controlled motor. The best aspect of the Shaderunner ® is that it provides shade without the need of overhead structures. When it's retracted, it stacks neatly away giving you open skies to allow maximum sunlight on a winter day, or a moonlit night!
Why Choose a Shaderunner®?
Shaderunners® provide protection from the harsh UV rays of the sun and with waterproof fabric options they are an affordable solution for light rain protection too. They can be fixed to existing pergola structures, onto houses and between posts. With this range of applications, they are great for extending your outdoor area, whether it is a backyard, courtyard, deck, or beer garden. Shaderunners® can span large distances making them a perfect solution for swimming pools, outdoor play areas in schools and childcare centres and other open space environments.
How do Shaderunners® work?
The shade cloth is made of rectangular fabric panels with aluminium cross battens for support. This is connected by marine grade pulleys and suspended from stainless steel guide wires. To operate the Shaderunner®, you simply pull a control cord, or press the remote control for motorised units, and the shade sail concertinas in and out. When it is extended, the fabric shade cloth drapes softly between the cross battens, creating a relaxed and beautiful aesthetic.
Can Shaderunners® be used in the rain?
The Shaderunner® is a sun shading awning and is not suitable for use in heavy rains. However, depending on the type of fabric used, you can keep your Shaderunner® extended in light rain if you are there to ensure that the fabric panels do not begin to pool water. Always retract your Shaderunner® when you are not at home to ensure it does not become loaded with rainwater. This could cause extensive damage to the fabric and the structure.
Can Shaderunners® be used in the wind?
The Shaderunner® is not designed to be in its extended position (either fully or partially) at wind speeds above 25 Knots (46km/h). At 25 Knots or over the Shaderunner® should be fully retracted. If wind speeds are forecast to be high or if the Shaderunner® is to be left unattended, it is always wise to retract the system.
A retractable roof is a motorised awning made of PVC coated polyester fabric on an aluminium frame that provides full weather protection when extended. When retracted, it's like it disappears allowing you to take advantage of a balmy, starry night or a warm winter sun.
Why is a retractable roof different from other retractable awnings? The answer is simple – it provides total weather protection – sun, wind and rain!
Imagine being outside on your deck or enjoying an alfresco meal at a restaurant. As can happen regularly in Sydney, a storm approaches and it threatens to rain. There is no need to hurry inside – why? Because the retractable roof extends with the push of a button protecting you and your friends from the rain and wind.
Why choose a retractable roof?
Retractable roofs give you protection from the sun, wind and rain, allowing you to make the most of your outdoor area.
They are ideal for creating outdoor living areas that can be used all-year-round, extending the indoor/outdoor flow of your home. For the fraction of the cost of a room extension, a retractable roof will add value to your home, without the huge investment of a full renovation! With a retractable roof, you can add an outdoor room to your home!
Being retractable, you have the choice of having nothing overhead and enjoying the open skies or extending the roof to gain maximum sun, wind and rain protection. A starry night, a balmy summer's evening or a glorious winter's day are all accessible for you with a retractable roof.
For commercial areas, such as restaurants, cafes and pubs, retractable roofs are a savvy investment, allowing more room for customers to dine outdoors no matter what the weather conditions are.
How do retractable roofs work?
The membrane is made of a waterproof PVC coated polyester fabric, has support bars going across the structure. The fabric concertinas in and out along a tracked wheeled system and when it is extended, it is locked into tension, ensuring the roof remains strong enough in high winds and rain. The frame and support bars are made of powder coated aluminium and components and mechanisms are from the highest-grade stainless steel, making them robust to withstand the harshest of conditions, such as sea-side or wind-blown areas.
Installed on a slight pitch, the retractable roofs are designed to drain water and are available with guttering, downpipes and flashings.
The roof structure and membrane are supported by posts and beams, or pergola-type structures. These can come standard with the roof or you can choose to have just the roof mounted on an existing pergola or even custom-built by your awning specialist.
The support posts and beams can be made of powder coated aluminium, timber or a variety of custom-designed and made structures, such as stainless steel, wrought iron or recycled timber.
Can retractable roofs be used in the rain?
Absolutely yes! We have seen retractable roofs left out in torrential down-pours without any problems.
Of course if the rain is coming in from the side and you want to keep your outdoor area dry, you might need some straight drop blinds attached to your retractable roof to ward off the rain coming in from the sides!
The best thing about it being retractable is that after the rain, you can retract the roof and dry off the moisture that might have reached some of your furniture!
Can retractable roofs be used in the wind?
Retractable roofs are so strong they can withstand winds up to 100km/hour! So even on the windiest of days, a retractable roof can be left in the extended position without the concern of it being damaged!
What are the benefits of retractable awnings?
With retractable awnings you can:
extend your awning and be protected from the harsh summer sun
retract your awning or shade sail to enjoy an open sky or a beautiful vista
make the most of the winter sun to warm your outdoor area by retracting your awning or shade sail
use your outdoor area throughout the year by being sheltered from the weather
keep the area cool but still allow light onto your patio or inside your home
protect your furniture and carpets from fading
cut down your air conditioning costs by reducing the heat inside your home in summer when your blind or awning is out
save on heating by allowing the winter sun to warm your home when your shade system is retracted
motorise your awning for ease of operation and with a sun/wind or rain sensor you can automate the awning to retract or extend as you wish
What are retractable awnings made from?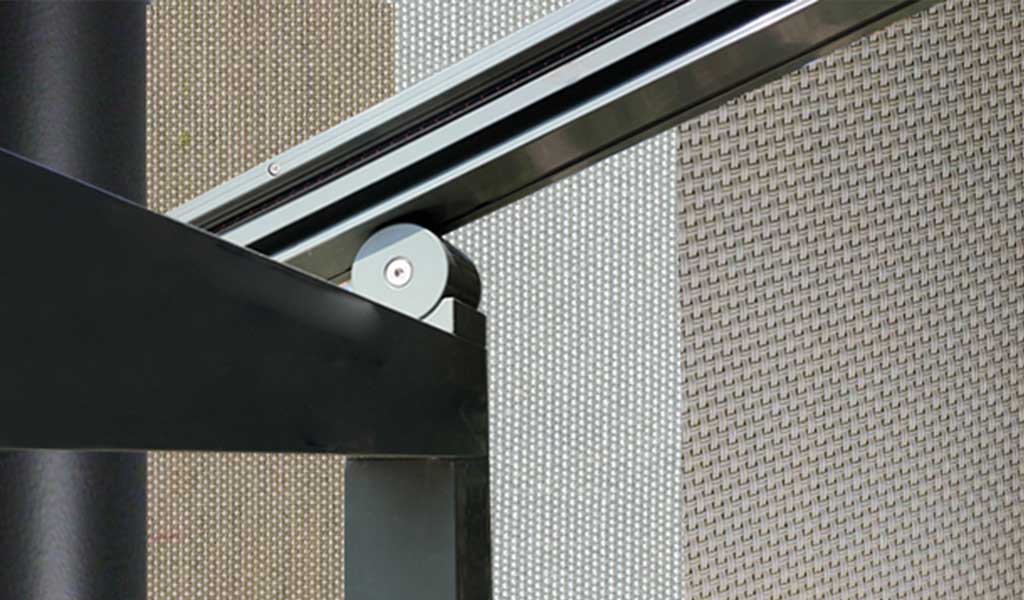 It is important that you choose awnings that are made of the highest quality components. There are many DIY or cheap awnings out there that use sub-standard materials, and whilst it might be cheaper to start with, you will be throwing it out in a couple of years due to deterioration of the parts!
We pride ourselves of supplying our clients with the best possible quality awnings available.
Aalta's awning components are made of high-grade materials.
Parts and components
Aalta's awning are made of high-grade materials, some of which are imported from Europe and manufactured here in Sydney by Southwest Awnings.
Shaderunners® are completely Australian made and use marine-grade stainless steel wires, turn-buckles, and pulleys.
For retractable roofs, folding arm, and patio awnings, the aluminium extrusions are imported from Europe, cut to size and powder coated here in Sydney, Australia.
We use Dulux Powder Coatings  so you can be assured of durability and reliance. And with so many colours to choose from, you can be sure you will be able to match the decor of your home or commercial building.
The brackets, screws and other fittings are made of marine-grade stainless steel, so you don't have to worry about rust and deterioration.
Motors
For our motorised awnings, Aatla uses the best motors available on the market. They may not be the cheapest, but we believe they give you the best performance.
Becker motors from Germany or
Somfy motors  from France
Both of which have been supplying the awning industry for many decades with superior quality motors and sensors.
Fabrics
The fabrics Aalta uses are mould, dirt and mildew resistant and provide excellent protection from UV rays.
There are three main fabric types of fabrics that are used to make retractable awnings:
Acrylic canvas – These fabrics are most used on folding arm awnings, patio awnings, drop arm awnings and straight drop awnings. The fabrics are sourced from reputable companies such as Lisos by Innova, Docril by Ricky Richards and Sattler by HVG Fabrics.
Polyester mesh fabrics – these fabrics are most used for Shaderunners®, patio awnings and straight drop awnings. The small perforations in these fabrics allow for greater air circulation, better views and they are flame retardant. The sun protection will depend on opening of the perforations. These fabrics are sourced from reputable companies such as Vistaweave by Goodearl & Bailey, Outlook mesh by Ricky Richards, Atmosphere mesh by Shannwindows and Visiontex by HVG Fabrics.
PVC coated polyester fabric – These fabrics are completely waterproof and are used for retractable roofs and Shaderunners®. They can either be total block-out (opaque) or translucent (allows light). Either option guarantees maximum sun protection. Fabrics include Serge Ferrari and Sioen Easy Fluo.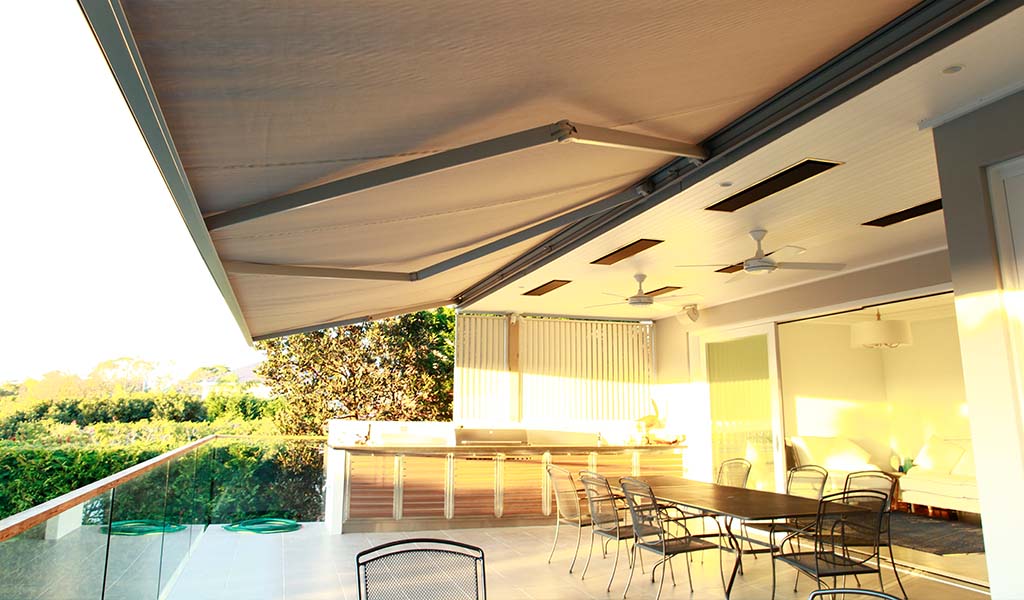 If you've invested in a retractable awning and want to keep your outdoor awning looking great, you will need to give it a bit of TLC from time to time.
Whilst awning fabrics are treated to resist dirt, mould and mildew, stains and markings from leaves, bird droppings, and dirt, are an inevitable part of the great outdoors and if your awning has been left exposed to these over a period of time, there will be fabric staining and degradation.
The best way to minimise this is to make sure your awning is cared for appropriately.
Awnings will last longer and look better if they are cleaned yearly. Here are some easy steps to help you keep your awning looking good:
Remove the excessive dirt with a soft brush and water
Use mild detergent to remove excess dirt
Rinse thoroughly with water.
Never use abrasive chemicals, solvents or bleach
Allow your awning to dry before you retract it
For more information on how to care for your awning check out our blog "How to care for your awning".
WHY CHOOSE AALTA FOR YOUR RETRACTABLE AWNINGS?
Aalta supplies retractable awnings and shade sails to homeowners and commercial properties throughout Sydney.
We pride ourselves on delivering quality awnings and shade systems that are custom made to measure from the best components, mechanisms, and fabrics available on the market. Our awnings are easy to operate with the option of motorisation available on most products.
Not all awning companies are alike! Many awning suppliers will offer you their standard range of products, which may not be suitable in all situations. At Aalta, we don't shy away from tricky jobs or custom projects. We understand that not all buildings are alike, and each project requires a unique approach. We have a strong focus on innovative solutions and will adapt our products to offer bespoke designs that will meet your requirements both functionally and aesthetically. This might include building a pergola frame, designing special brackets to mount your awning correctly on your home, or designing and building steel posts or beams for supporting the shade structure.
We love to work closely with our clients, whether homeowners, restaurateurs, architects, builders, or landscapers to design, produce and install the right shade system for your project.
So why not try us out and get in touch with to see how we can help!
Out of Office Hours? We will call you back.
other types of retractable awnings
If you can't find the right retractable outdoor awning for your project listed above, then check out our other products available.
Straight drop awnings are the perfect external window dressing to reduce the harsh Australian sun. Extending and retracting vertically makes this retractable awning the ideal solution to shade your outdoor area or internal space from the early morning or low setting sun. These awnings come in a range of fabrics – from PVC mesh for maintaining a partial view, to full block out. As with most awnings, they can be either manually operated or motorised.
The image shows a Straight Drop Awning installed with a Retractable Roof to reduce the heat and glare of the sun when it is low. It can also act as a shield to wind and rain, essentially creating an outdoor space that can be used in most weather conditions!
Drop Arm Awnings, also known as pivot arm awnings, provide sun protection over windows. The awnings are mounted over the window with the arm fixed to the building, pivoting on itself to extend and retract the awning.  Whether it is motorised or manually operated, the beauty of this is that you can adjust the angle of the awning to optimise the shade or view.
The image shows a custom-made Drop Arm Retractable Awning using bespoke stainless steel arms to complement the industrial look of this beautiful home.