Motorised awnings and shades Sydney
Say Goodbye to Bad Weather With Your Motorised Awnings in Sydney
Whether inside or out – all you need is a handy remote control to protect yourself from sun, wind or rainfall.
Our range of motorised shade awnings in Sydney put the power in your hands. It's simple! Just use your handy remote control to instantly retract your shade system or awning. Each product is designed to last and protect you – and your guests – from the natural elements.
Instant Access Any Time
Our motorised awnings put you in control of the weather. They can be used in a variety of situations to overcome unwanted weather.
Keep the house cool: when you first wake up in the morning, extend the awning to keep your undercover area cool before the temperature rises.
Keep your outside area dry: do you sense rain starting to come? Use your remote to extend the awning and protect your guests from unwanted rainfall.
Automatic Weather Sensors
When unexpected weather arrives, our motorised awnings will keep your Sydney property protected.
Our sun, rain and wind sensors instantly respond to unexpected weather changes. When the sun looms over the clouds, your shade system or awning will extend to keep your undercover spot cool. And when the wind picks up your shade system, or awning will retract away, to avoid damage.
These devices can be included as an additional feature for any motorised shade or awning installation.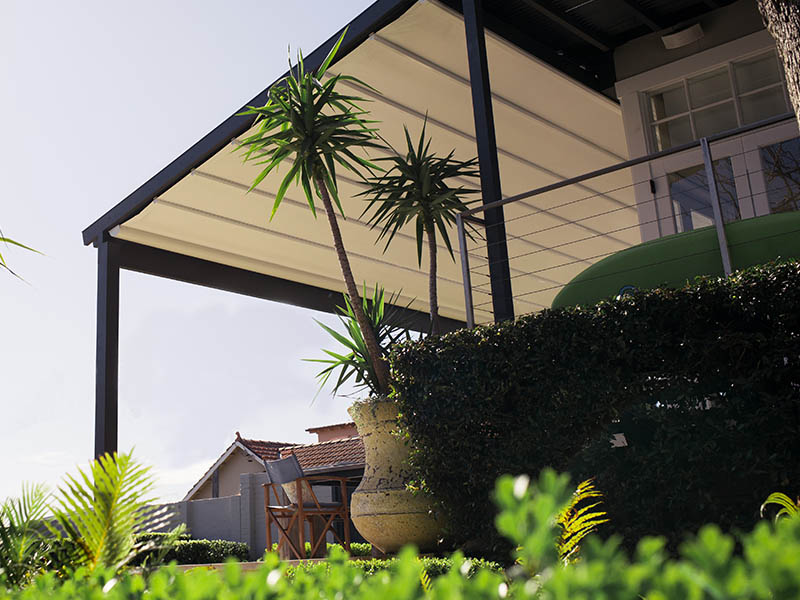 Who would have thought that a roof over your head could be retracted at the push of a button? An Aalta Retractable Roof provides shelter from the sun, wind and rain and gives you total control of the weather on your outdoor area. When the stars are out at night, or the sun has emerged after the dreary rain, with the remote control, the motorised roof retracts so you can enjoy the night sky or welcome the warming sun – the choices are yours and so easy!
There is no need to add a wind sensor to your retractable roof as they withstand up to 100km winds, so you can leave it extended knowing it won't get damaged by the wind and rain.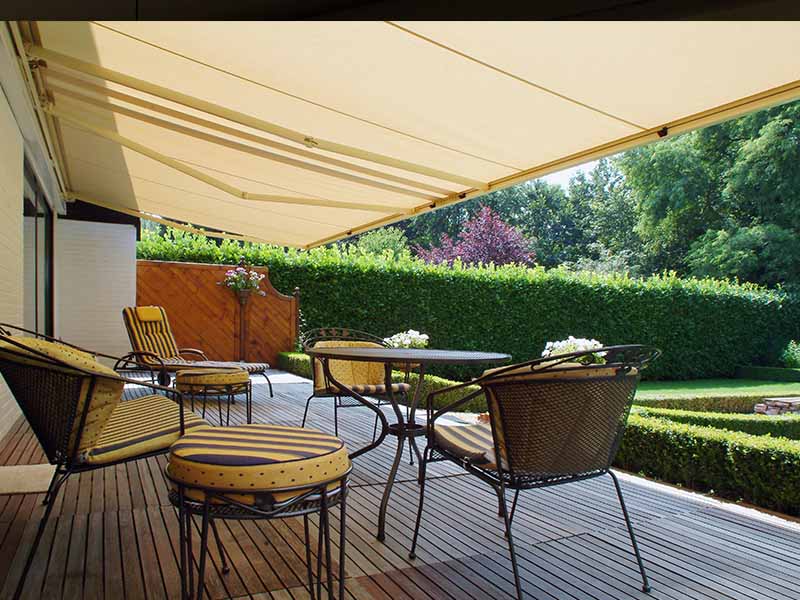 Folding Arm Awnings are a great way to provide shade over your outdoor area. Without the need of support posts or structures, the awnings extend up to 3.5 metres!
By choosing to motorise your Folding Arm Awning, not only do you alleviate the hassle of a manual crank but you can also choose to add sun and motion sensors to it. This way you can relax, knowing that when it's hot, your awning will extend to cool your house before you get home, or if the wind comes up, it will retract to avoid damage. For a small investment, you gain total peace of mind and avoid costly repairs!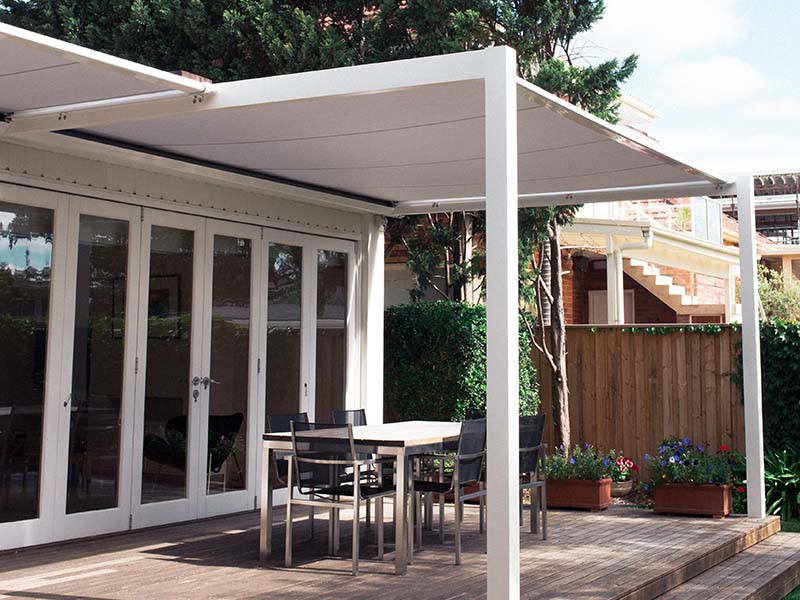 Our Patio Awnings are designed to keep the harsh sun's rays off your glass roof, patio or courtyard. Each motorised patio awning we install comes with a tubular motor, which you can operate via remote control.
The fabric and front rail are kept under constant tension by means of a spring system, wheel runners and cord. The wheeled runner system allows for smooth running of the front rail along the side tracks or cables.
With the option of a sun and wind sensor, your Patio awning will not only provide the shade you need, but when you need it.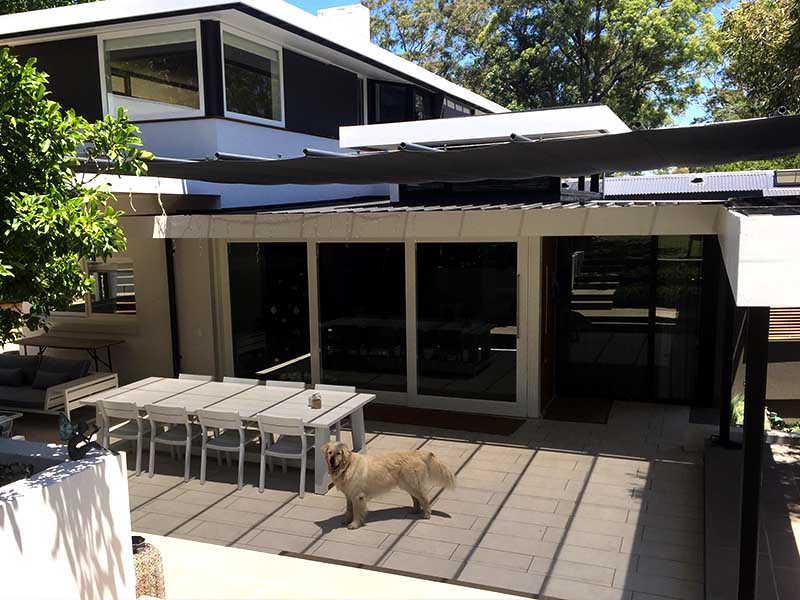 A Shaderunner® is an extremely lightweight retractable shade sail that extends and retracts along stainless steel cables. It is easy to operate manually. But why not go with the motorised option for the ultimate in ease and convenience (limits apply to extension for motorised options)? With the motorised option, you can include sun, rain and wind sensors for optimum weather protection.
Whether you choose a polyester mesh fabric or a more water-resistant acrylic fabric, the Shaderunner® neatly folds up and stacks at one end after being electronically retracted with the press of a button. It can be installed onto your existing pergola, verandah or entertainment area – or part of any new outdoor area.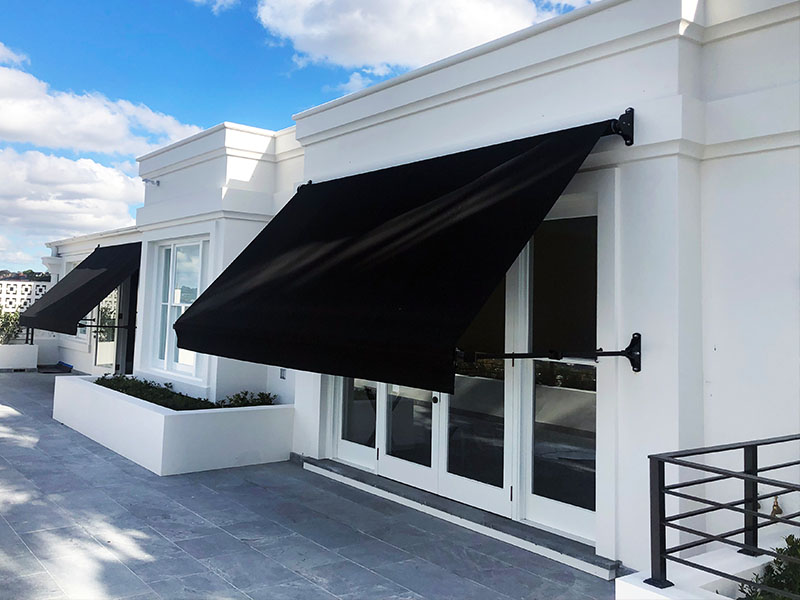 Whether you need motorised awnings in Sydney for your window or over your door – a Drop Arm Awning will keep you cool indoors. Use the remote to adjust your awning at the desired angle to optimise the shade, keep the drizzle of rain off your window or maintain your view.
We have contemporary and Federation-style awnings, which are available in a range of colours and designs. Our design consultant will provide palette samples to give your Drop Arm Awning a distinctive look.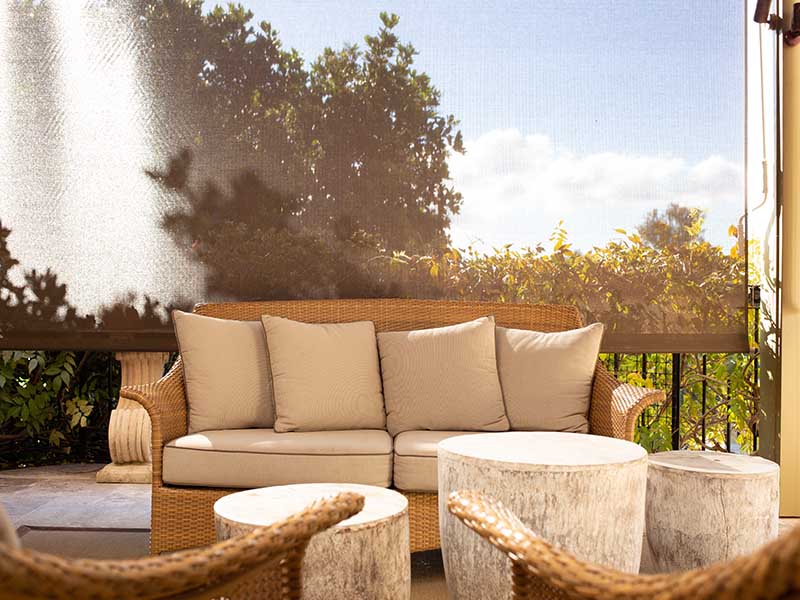 An outdoor Straight Drop Awning is one of the simplest ways to protect you from the sun… and give yourself some privacy too.
Simply walk into your living space and use the remote to bring your awning down.
There are many customisation options you can take advantage of. These include fabric choices, optional hoods and your choice of mounting to the interior or exterior balustrade.
Book Your Consultation Session Today
It's easy to book an appointment with us.
Simply call (02) 8065 4911 and our friendly team will book a consultation session for you. If you'd like a quick cost estimation based on your ideal product, we can arrange that for you too.
Out of Office Hours? We will call you back.