Custom-made retractable awnings, blinds and shade systems so you can enjoy the space you're in.
Our Company Story
Aalta Australia has grown out of a long family history supplying custom-made retractable awnings, blinds and shade systems to commercial and residential properties throughout Sydney and regional areas within NSW.
Today we remain a family business that is held together by integrity, commitment and honesty that extends to everyone we deal with.
Richard, who has been operating in the blinds and awning industry for over 40 years started Aalta Australia in 2014. Richard uses his extensive product knowledge, combined with his cunning knack of engineering and design to bring to life bespoke shade structures that work with any environment.
In 2015, Richard was joined by his wife, Beatrice who handles business operations with an earnest and methodical approach. This husband and wife team is bolstered by Alison, who operates sales, and their son Dylan, who looks after the marketing.
What sets Aalta apart from other companies within the industry is our personable approach, our emphasis on customer satisfaction and our broad offerings of bespoke design.
We are continually evolving and growing as a team and we thank everyone who has been a part of the journey thus far!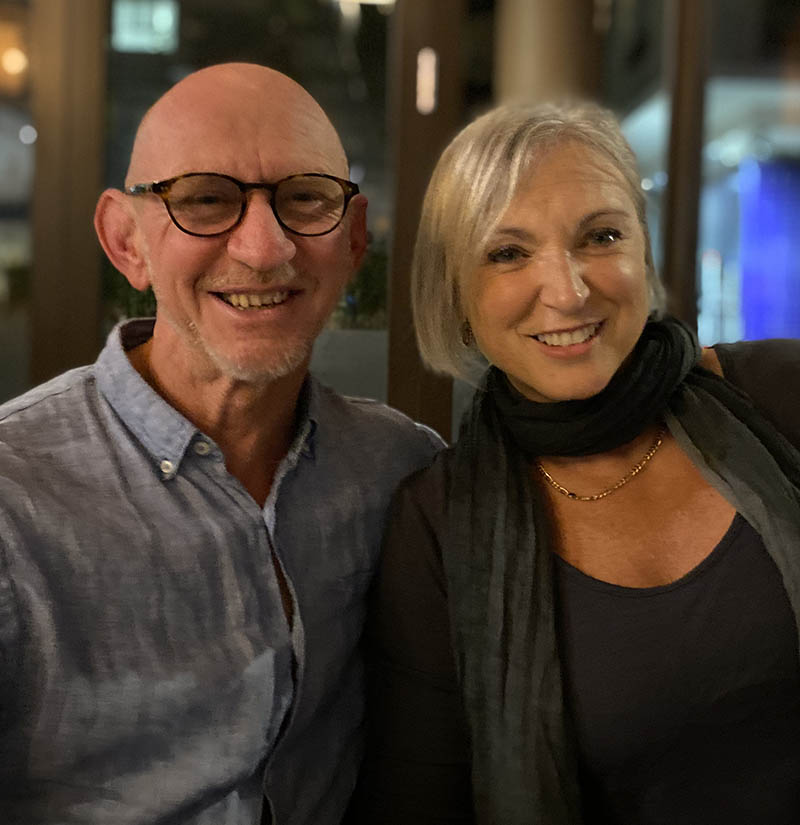 Who do we serve?
We serve both the commercial and residential markets and no job is too big or too small.
Whether you are a homeowner, restaurateur, property manager, architect, or builder, we are here to work with you to achieve the best possible outcome for your shading or weather protection requirements.
Over the years we have worked with a many architects, designers, landscapers, and builders who we have formed dependable relationships with. We are always happy to meet and discuss projects with those we have not yet had the pleasure of working with.
If you are looking for the right shade system for your home or for your client, contact us for a free consultation and quote!
Quality
We source our products from the highest quality components and materials ensuring premium-grade awnings. This is reinforced by our strong warranties and customer testimonials.
For retractable roofs, folding arm, and patio awnings, the aluminium extrusions are imported from Europe, cut to size, powder coated and assembled here in Sydney, Australia.  Shaderunners® are completely Australian made and use marine-grade stainless steel wires, turn-buckles, and pulleys.
We use Dulux Powder Coatings so you can be assured of durability and reliance.
The fabrics Aalta uses are mould, dirt and mildew resistant and provide excellent protection from UV rays.
Design
All projects are different and so are our clients' requirements, both aesthetically and functionally.
We spend time consulting with our clients to understand their needs so that we can assure the best designed shade solution. This may incorporate additional building works to facilitate the project as well as customised parts, profiles, and materials to suit the environment we are installing in.
We have the capacity to complete large-scale projects through innovative design and confidence that has been bolstered by our experience in the industry.
Personalised service
We offer a free consultation service where our experienced consultant will advise you on the best products and designs to meet your needs. This involves a thorough measure of the area, recommendations, and an opportunity to talk about the design and implementation process.
After the consultation we will send you a quotation with all the items specified as per our discussion with you. On request, we can offer design illustrations for an additional fee to enable you to visualise the proposal.
If choosing to proceed, our project managers will work towards ensuring your project is completed and delivered within the expected lead time and above all making sure you are 100% satisfied with the outcome.
What our clients have to say about working with us
It was a pleasure to deal with Aalta from start to finish. Every staff member was professional and the end product is even better than we had hoped. Paul, Maroubra
The awning looks great and we are looking forward to our next party using our indoor/outdoor room. Many thanks for getting all the "hiccups" fixed so quickly. I will be sending your details to our builder, so hopefully some of their clients will need your services sometime soon. Ruth, Leichardt
I just want to say thank you for an excellent job on the new awnings at my place. Because the location was so high up, the logistics of putting up these new awnings was complicated. You, Richard and the Aalta team were always helpful and professional. Your organisational ability, communication with me and others, and perseverance in bringing this project to a successful conclusion were particularly commendable. In short, it was a difficult project successfully accomplished with a quality product and a quality team. Thank you again. Robyn, Darling Point
We are delighted with the installation of an Aalta Retractable Roof in our garden. The process was flawless from start to finish with the company's "can do" attitude and the installation team were efficient and fast, with an excellent eye for detail. Our home has been transformed, as part of our garden is now like another room. Paul & Jennifer, Mosman
Our History
For those of you who want to know a little bit more about our history here is our story…we have tried to keep it brief!
It seems that furnishings and design run in the blood stream of the Goodearl name. It all began in 1870 when William Goodearl started his chair and furnishing business in England and by the 1880s William and his four sons worked together in what was then known as Goodearl Bros.
William's grandsons George Herbert Goodearl and Richard Goodearl (Jnr) immigrated to Australia in 1886 to start Goodearl Bros Australia where they assembled and distributed the furniture made by their family in England. Unfortunately, the Australian market at the time was not ready for this high-quality furniture so the brothers decided to start an upholstery division and eventually added bedding to their range of products. This proved to be a highly successful business venture and their innovative spirit led them to make the first inner spring mattress in Australia!
Sometime before the turn of the century the company moved into manufacturing canvas goods such as blinds, awnings, tents and tarps.  From a humble beginning the canvas section grew quite large, and the family business seemed assured of a rosy future.
George Herbert was looking towards retirement and after losing his business partner in 1912, his son George Richard, who had joined the company in 1920 was being groomed as the next proprietor. Sadly, he too passed away some 11 years later.
The company, then named Goodearls Pty Ltd was passed down to George Richard's sisters Annie Mabel and Clarice, and his widowed wife, Jessie. This left the company with a series of managers but in the post-World War II period they faced problems with obtaining stocks and declining sales – a succession of mishaps seemed to follow until the then manager resigned.
In 1957 the Goodearl ladies transferred the company to Jessie's son, David George (aged 25) and Gordon Bailey (aged 30), who both worked in the business. To salvage the company David and Gordon sold the Kent Street property, relocated to Mascot and closed the bedding section, which was trading at a huge loss.  The company name was changed to Goodearl & Bailey Pty Ltd in 1972. Gordon Bailey and David Goodearl retired in 1995.
The trading section of the business was equally transferred to Michael Duggan (Manager) and Richard Goodearl (David's son and employee) and after six years of trading, they split the company. Michael took the piece goods sale part and kept the name Goodearl & Baily, of which his daughter still trades under.
Richard renamed the company Goodearl Fabric Systems (GFS) and continued to manufacture awnings and retractable roofs for wholesale customers. Richard's experience, industry contacts, and passion for design led him to focus on creating outdoor living spaces for homes and commercial properties. Aalta Screens Systems was established as a trading name for GFS and serviced the retail market.
Due to the financial strains put on Australian manufacturing companies, GFS was closed in 2014. Richard kept Aalta Screen Systems and rebranded it to Aalta Australia.. Aalta operates under an efficient management system, with our values grounded in honesty, respect, integrity and reliability. Our products, services and interactions with each other, our customers, our community and our environment come from these values.
With this rich history in the furniture, bedding, canvas, and outdoor spaces industries, it's no wonder Aalta Australia's successful future lies in providing premium shade and shelter from the elements for its clients.