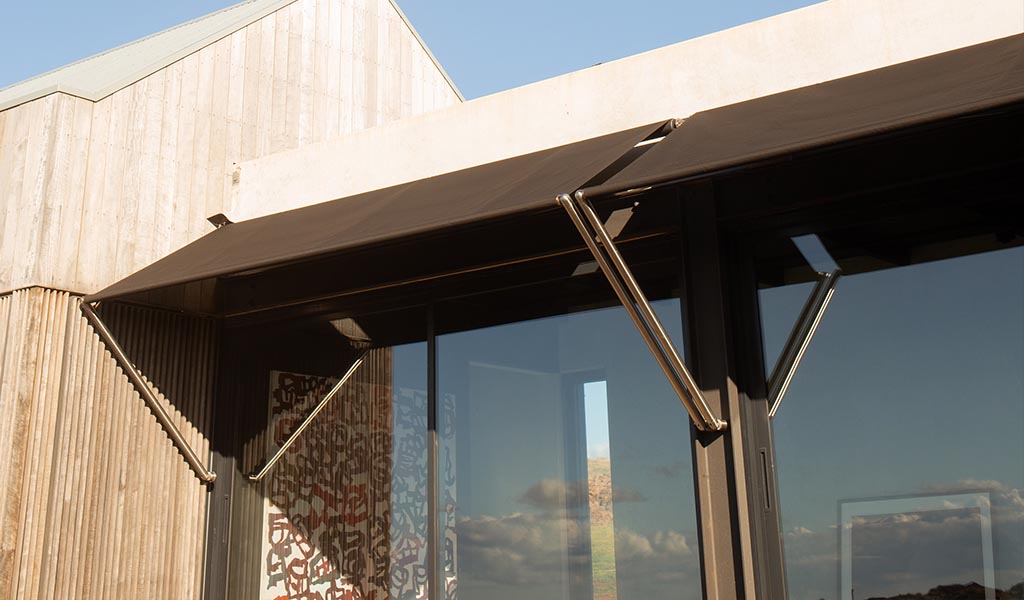 What is a Drop Arm Awning?
A Drop Arm Awning, also known as a pivot arm awning, is a modern adaptation of a traditional retractable awning that is used to provide shade and weather protection over windows and doors. Pivoting on an extruded arm, a Drop Arm Awning allows you to adjust the angle of the awning to optimise the shade or view required.
The retractable awning can be either manually operated with a crank handle or motorised for ease of operation.
Optional hoods are available and are ideal for mounting the awning over windows where there is no eave to protect the roller and components.
A wide range of fabrics and colours are available including solution dyed acrylic and polyester mesh fabric. All fabrics have been treated to resist dirt, mould and mildew.
All fittings and hoods are Dulux powder coated so you can be assured your awning will endure the harsh Australian sun.
Our Drop Arm Awnings are designed and manufactured in Australia for Australian conditions.
What are the benefits of Drop Arm Awnings?
The awning can be adjusted to precisely the right angle to block out the sun, so when the sun is low in the morning or evening, you can roll down the awning, and as the sun gets higher during the day, you can retract it to where the sun is hitting your home for optimum sun protection
Whilst the Drop Arm Awning is extended, you still gain sufficient air flow beneath the awning to keep your home or commercial space cooler
Reduce your energy bills and energy foot print on the planet by reducing the need of air conditioning with a retractable awning. The Drop Arm Awning will keep your home cooler in summer by stopping the UV rays and heat from reaching your window or door, and when retracted, will allow the sun to heat the internal area
With the wide range of colours available in the fabrics and powder coating options, the Drop Arm Awning will integrate with any style of building
2 year warranty on components
OUR RANGE OF DROP ARM AWINGS
FEDERATION DROP ARM AWNING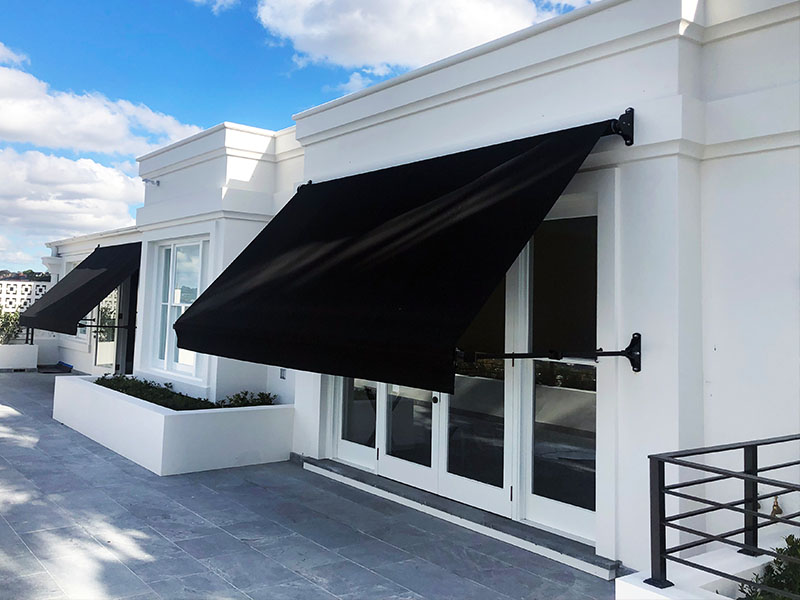 The Federation Drop Awrm Awning complements the classic homes of Sydney's waterfront and established suburbs and is ideal for those who are after a more classic or traditional look for their awning .
The awning's roller brackets and arms have been architecturally designed with decorative components in a federation style and are a beautiful addition both functionally and aesthetically to your home.
The FR600 Drop Arm Awning is stylish in its simplicity, with aluminium extruded spring-loaded arms and front rail. It complements any home or commercial building to provide optimum shade, no matter where the sun is hitting the building!
Aalta also offers bespoke arms made from stainless steel, giving the awning a contemporary look for the modern home or commercial space (see image above).
Out of Office Hours? We will call you back.