Custom Awnings That Attract Customers
Shopping for custom awnings can be a stressful time. There are a lot of things to consider from the type of awning that you want to the type of customer you're trying to attract. But, it doesn't have to be so difficult to figure out what you need.
If you're wondering how to find awnings that attract customers to your business, then you're in the right place. In this article, we've got several tips for you to keep in mind as you progress through this journey to find the perfect awning. Keep reading to learn more
How to Find Custom Awnings That Attract Customers to Your Business
Creating a signature look for your business is as simple as adding an awning to the entrance. Restaurant awnings are also popular for outside patios with seating areas. No matter what type of business you have, an awning adds a bit of flair and pizzaz.
Depending on the type of business you have, therefore, depends on the type of awning you should choose. But, there are also some other important factors to consider in your decision-making process.
Let's take a look at how to find the best custom awning for your business that will attract customers and make you the talk of the town.
Budget
Custom awnings can cost anywhere from $2000 to $10,000 depending on the size and style so it's important to outline a budget before you start shopping. This way you'll know what you can afford which can help you narrow down your choices.
Pricing also varies by manufacturer and installer. Off-the-shelf awnings from large hardware stores or retail chanins are most cost-effective, cut quality is often compromised. Custom made fabric awnings may be more expensive starting at around $1,000, but offer better quality and longevity.
Function
Before you can decide the type of awning you think fits best for your business, you must decide on its function. Whether you want it to provide shade, protection from wind and rain or simply make your business stand out with some signage on it. You can explain your purpose for the use of the awning to your supplier who can help guide you in deciding which type of awning will work best for the designated space and design.
It is critical for a business awning to be structurally sound. This means you should have a professional awning supplier examine your building, the specific location of the potential awning, and the types of environmental and weather conditions the area faces.
Size
The size of your awning depends on how much space you have available and what you're trying to protect. Windows and doors determine the size for their respective awnings. Patio awnings, on the other hand, are can be determined by the outdoor space you wish to protect and the length of your building..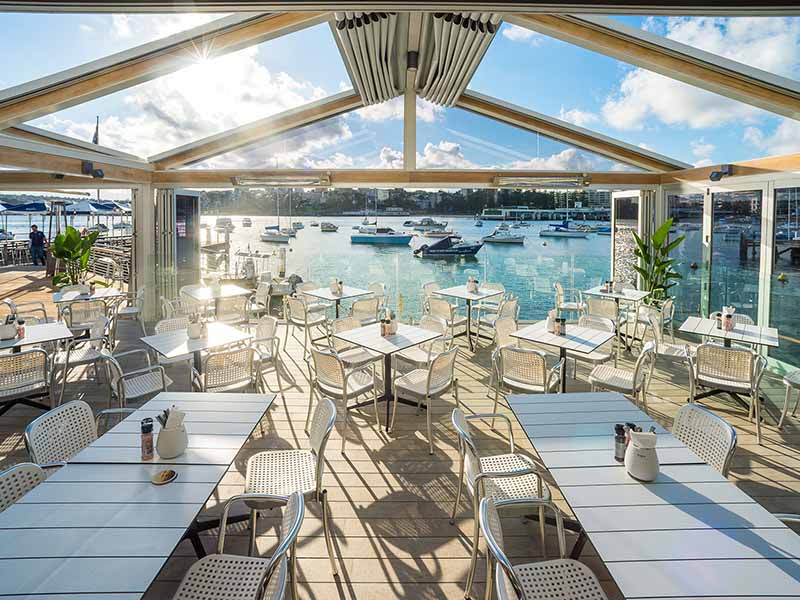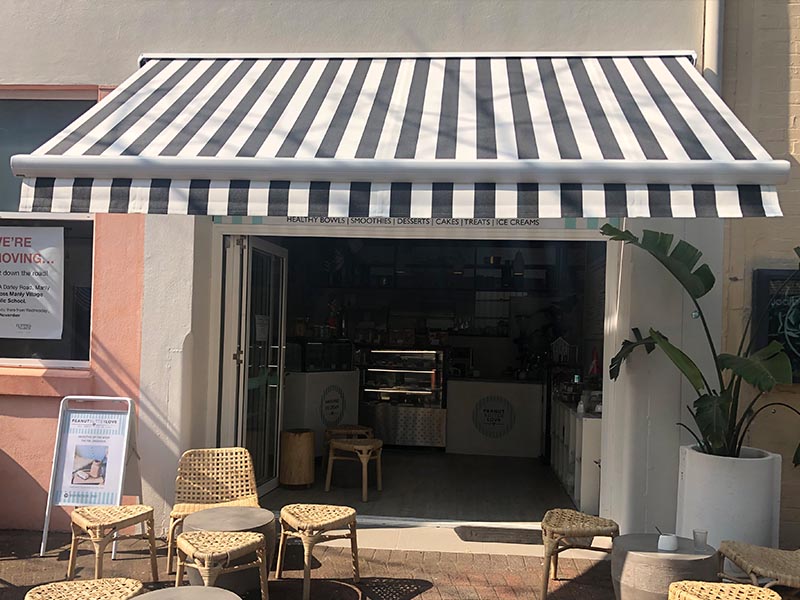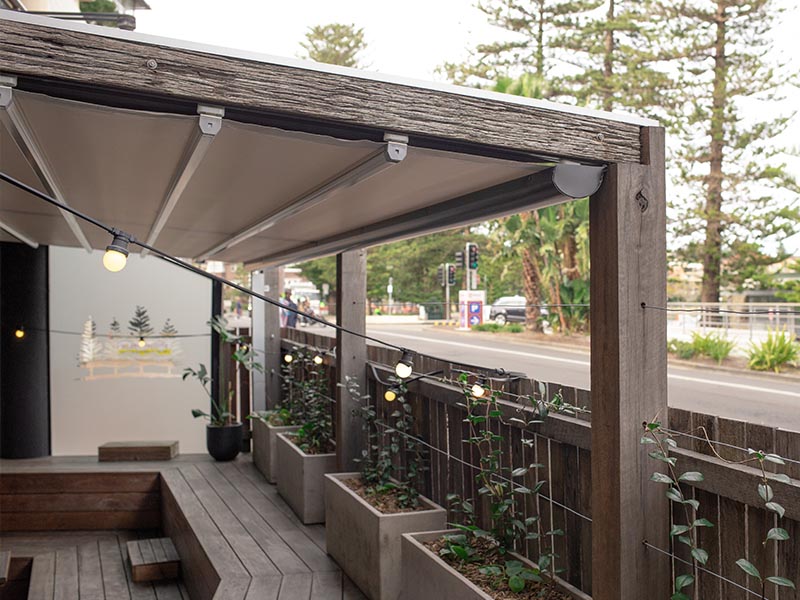 Materials and Design
Awnings can be made from acrylic canvas, polyester coated pvcs and metal. Fabrics are popular because they provide a soft touch to a large structure and also enable you to retract it when necessary. You can easily have your business name and logo printed on fabric awnings.
Fabric awnings are UV treated to resist sun damage, waterproof or water-resistant, and resistant to rot, rust, and mold. They are also fire retardant in most locations.
Style
Creative awnings such as pergolas or a custom retractable awning make a statement. The style of your awning, however, also depends on the style of your building. Don't choose something that fits with a country theme if you are in a Mediterranean style neighbourhood.
Customers will see awnings for doors and windows first which also creates their first impression. Restaurants especially benefit from this style because they can use the awning to shield daylight from patrons' tables, even indoors.
Curb Appeal
Speaking of first impressions, you should also base your decision on the curb appeal of the awning. You want the aesthetics to align with your business so that customers become familiar with the face of your business. Keep the colors consistent with your brand.
Think about what people will see as they walk by on both sides of the street. What about driving by? And biking, too. It's a good idea to have your business name on the awning so that customers can easily find you.
Retractable vs Fixed Awning
Retractable awnings can be extended and retracted depending on various reasons you may have for bringing it in or out. Most of the time you'll want to retract it during bad weather. Some models have motion sensors to work with sun, rain, and wind.
Retractable roofs, however, can be left out in high winds and rain so are a perfect solution for restaurants and bars as they will protect the patrons in inclement weather. On a balmy evening or a mild winter day, the roof can be retracted so your customers can enjoy the open sky.
Fixed awnings are permanently extended to protect your customers and outdoor furniture even during the worst weather. The downside is, it's always there!
Deciding which type of awning is best for your business between the two depends on your personal preference and what you're trying to protect. Remember, even fabric awnings can be waterproof and water-resistant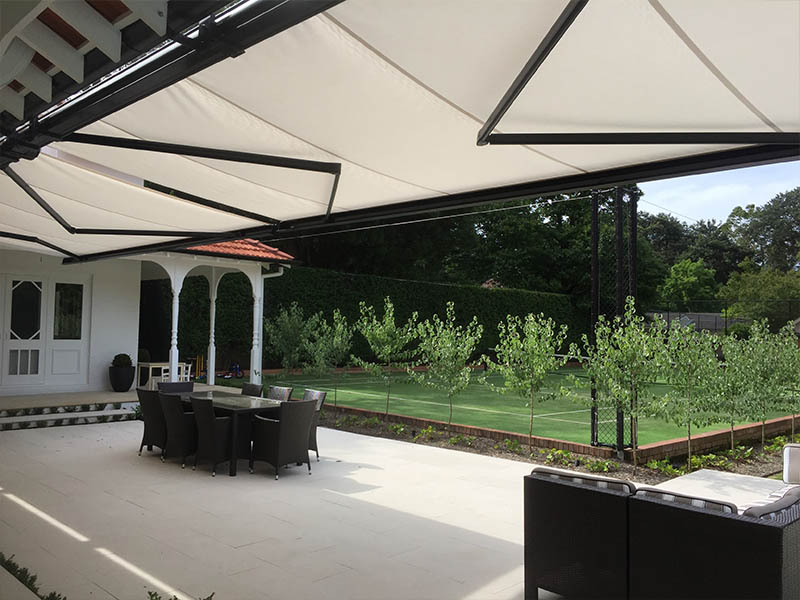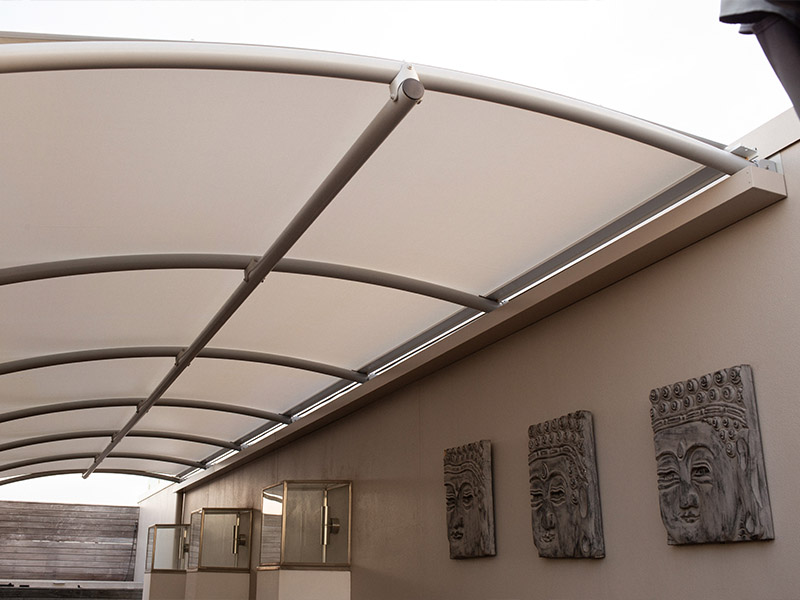 Final Thoughts
Selecting the best custom awnings for your business doesn't have to be overwhelming. Make it fun with these tips so your customers will appreciate you more.
A proper awning enhances and advertises your business as well as protects visitors in outdoor spaces. It can also make your business stand out from others which is sure to draw customers.
While you're drawing up plans, consider adding some additional features and elements like lighting, fans, heaters, and outdoor speakers. Anything you can do to make the space more enjoyable will extend the amount of time visitors spend with you.
If you have questions or would like to meet with an installer, don't hesitate to contact us. We are family owned and look forward to helping you.
Out of Office Hours? We will call you back.