Elegant Zip Tracked Awning
This Manly 70s brick house sits on under 200 sqm of land. In 2011 the residents began their three-staged renovations to not only modernise its finishes, but to maximise the space to accommodate their two then teenage children. In 2019 the final stage was completed which included raising the roof on the second level to allow more natural light and to increase the ceiling heights.
The north-facing balcony that comes off this level is the perfect place to relax. Set amongst the trees, the owners often refer to it as the treehouse!
The sunlight is delightful, but during the day and the summer months, it can get quite hot. Being close to Manly beach, the balcony is also exposed to the afternoon north-easterly winds.
They needed an awning to provide shade and to be robust enough to withstand the wind but didn't want a heavy and bulky frame to support it.
Aalta's Zip Patio Awning was the perfect answer! This awning is elegant yet robust. Imported from Harol in Belgium, its lines are sleek and unobtrusive. The posts and front beam are slim and powder coated to match existing fitting.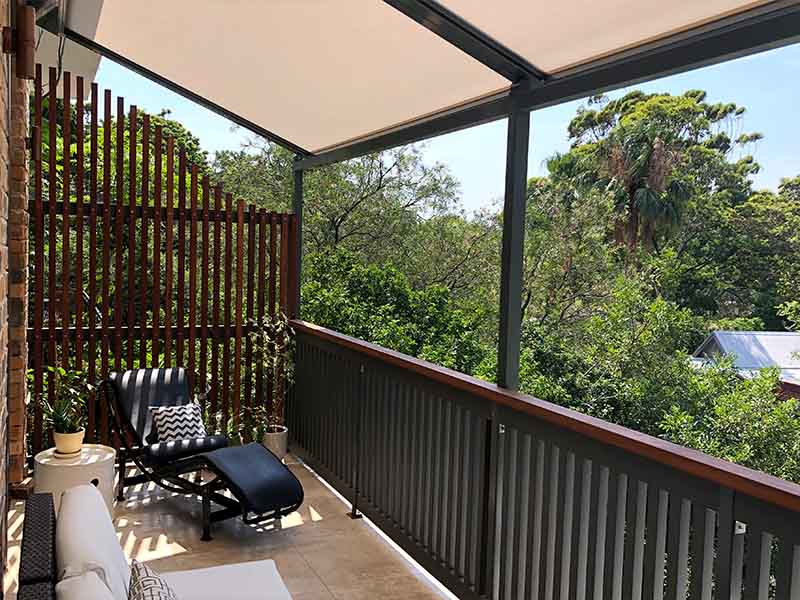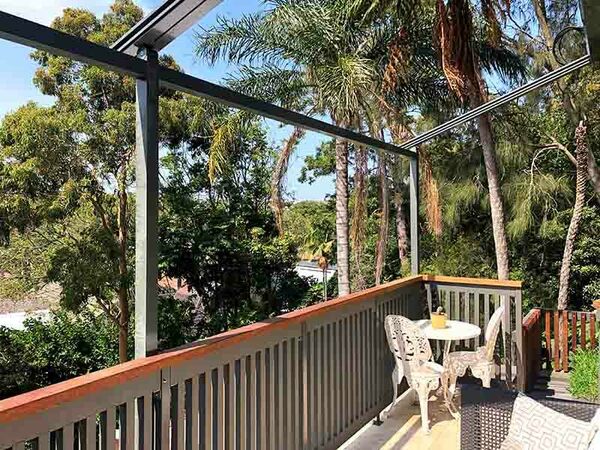 The Zip Patio Awning provides protection from the sun, wind (as the video shows) and rain, enabling you to create a beautiful outdoor area that can be enjoyed through all seasons. This awning uses zip tracks located in the side rails to keep the fabric tensioned. This in turn results in no gaps between the fabric and the side rails (more shade) and a robust system that can tolerate extremely high winds.
The increase in height of our client's roof gave A sufficient space to install the Zip Patio Awning on a 15-degree pitch, enabling the awning to also provide protection from the rain.
Being motorised, with the push of a button, it retracts to open up the sky above!
Our clients love their treetop balcony and with the Zip Patio Awning, they can sit out and enjoy whatever the climate brings.
If you are after a shade system that can make your space more usable and comfortable, the Zip Patio Awning is a great consideration.
At Aalta we are all about finding the right shade for you.
Our friendly team are available Monday to Friday to answer any questions you may have, so please do not hesitate to give us a call or to get in touch.
Out of Office Hours? We will call you back.