Entertain outdoors with a Retractable Roof
This beautiful waterfront home on the northern side of Sydney harbour was exquisitely renovated to create an alfresco entertainment area.
Aalta had previously supplied Folding Arm Awnings to the side of the home for sun protection.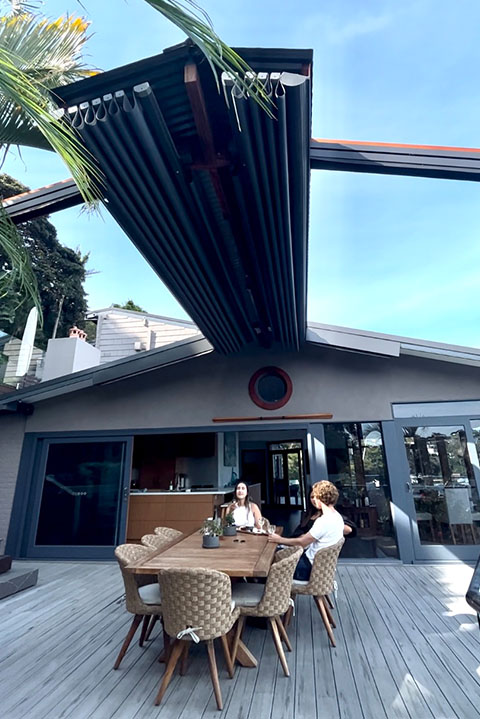 When our clients began their renovations, they approached Aalta to discuss sun and rain protection on the deck. Their brief was to create an outdoor area that flowed seamlessly from the kitchen/dining and living areas so that they could entertain friends and family without worrying about the weather. Given its harbourside location it was essential to maintain the spectacular view and to allow as much light into the area as possible. They also wanted to make sure the new awnings would work with the aesthetic of the house.
Aalta proposed two Liberty Retractable Roofs, travelling upwards and meeting in the centre to follow the angle of the existing roof. The support structure was designed to integrate with the home and allowed for minimal posts and without the need for heavy structures.
Retractable roofs are motorised, openable awnings that concertina forward and backwards.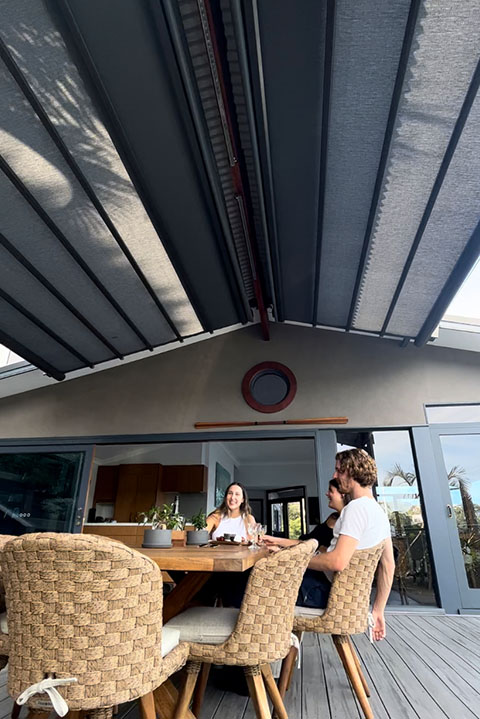 The membrane is made from waterproof pvc coated polyester fabric that travels along aluminium light weight tracks. When extended, they are held under tension making them robust against high winds of up to 100km/hour. The Liberty Retractable Roof has no posts or front beam, allowing it to be fitted to existing pergola frames or custom-built frames.
The details of the project were:
1 @ 5060mm Wide x 3100mm Projection
1 @ 5060mm Wide x 2100mm Projection
Each roof motorised with remote control operation
2 @ runners each system
Powder coating colour Monument from the Dulux Duralloy range
PVC coated polyester fabric, colour Anthracite grey
Powder coated support tubes monument to match the fabric
Set in side rail
Retractable gutters on both units
Downpipe on leading edge
Top flashing to ensure water tightness
Special brackets to mount to centre beam
The centre beam and posts were constructed by the builder onto which the Aalta Retractable Roofs were mounted to
Our clients were thrilled with the final installation. The retractable roofs are stylish yet functional, allowing them to entertain guests in their alfresco area and make the most of their beautiful natural surrounds whilst being sheltered from the sun, rain and wind.
Out of Office Hours? We will call you back.