MANLY PUB TRANSFORMED WITH RETRACTABLE ROOF
With its rustic, cosy and inviting feel, good food, and above all an awesome selection of beers from their onsite brewery, 4 Pines is one of Manly's iconic pub venues.
The staff are welcoming and know lots about beer – which gets a thumbs up from Aalta's Director, Richard, who is a beer tragic!
As a thriving establishment, it made sense to occupy the vacant restaurant space downstairs for the new 4 Pines Keller Door beer and burger pub. This gave them a greater capacity for filling the locals and tourists alike with yummy food and great beer. The new venue boasts both an indoor and outdoor dining area.
The outdoor dining area already had a retractable roof installed. It was used extensively by the last restaurant to provide shade and protection from the rain to its patrons in the outdoor area. As far as commercial awnings go, a retractable roof is ideal for bars and restaurants as it can considerably extend the use of any outdoor dining area during both winter and summer seasons.
By the time 4 Pines moved in, the retractable roof was not working as well as it should, as it was a little long in the tooth. To just service the retractable roof was not really an option. The cream coloured powder coating of the aluminium frame was dated and did not suit the look and feel of the pub. The retractable roof structure was also very low, making the area beneath it quite dark with a bit of a dingy feel. Check out the images below showing the old-style retractable roof.
Aalta was approached by the management of 4 Pines late 2018. Aalta's Director, Richard (who loves to drink beer) met with them and discussed the project. The brief was to replace the retractable roof with a new one…that was it!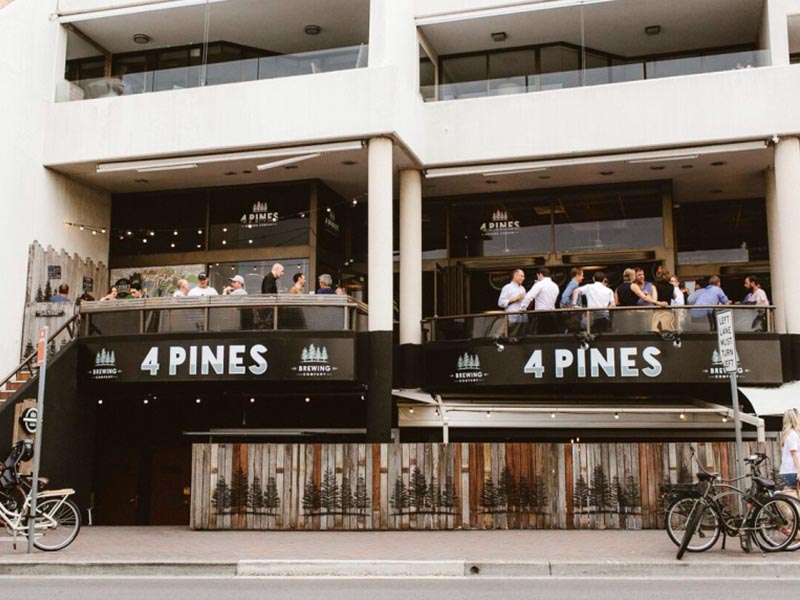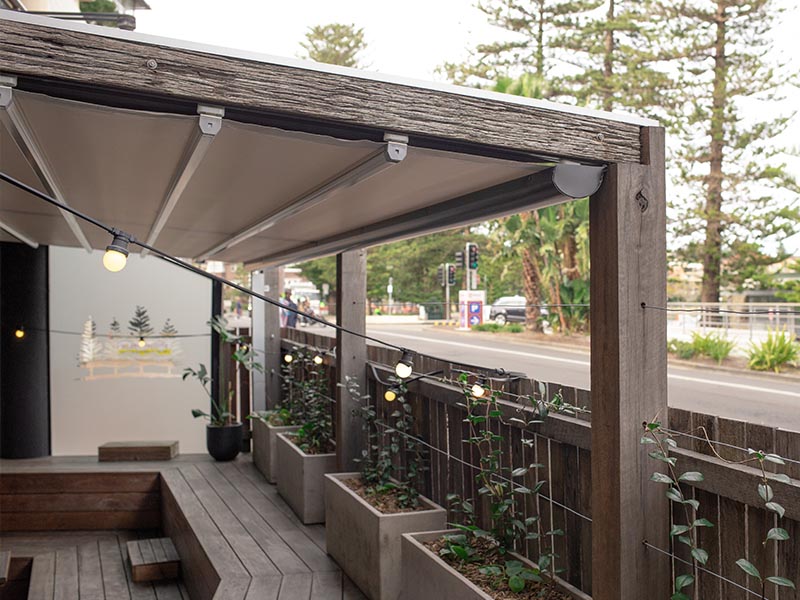 At Aalta, our mission is "to create beautiful outdoor areas that bring enjoyment and an enriched quality of life – creating 3rd space." A basic aluminium frame for this retractable roof did not fulfil our mission, as it was neither beautiful nor did it reflect the establishment's atmosphere to provide a cool place for people to meet.
Richard proposed to replace the existing retractable roof with our Liberty Retractable Roof and to construct a custom-built frame to support the roof out of recycled timbers. This would be in-keeping with the establishment's brand and continue with the rustic, shed-like style that has become synonymous with 4 Pines.
Aalta also proposed to shorten the extension and maximise the height of the roof to give better clearance and increase the sense of space beneath the roof.
This was immediately approved by management.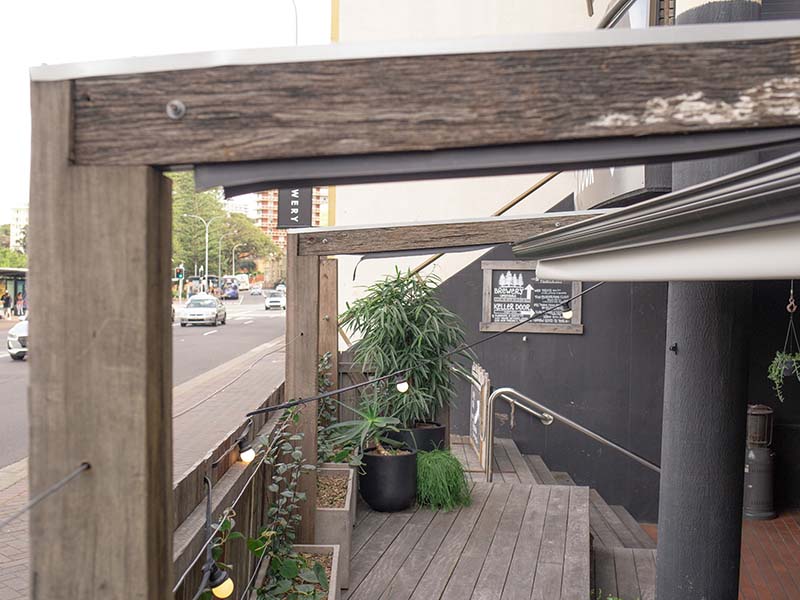 The details of the project were:
Retractable Roof – Liberty
6130mm wide x 2900mm projection
Motorised with remote control operation
Fabric - Ferarri STAM 6002 light grey
Recycled timber posts 150mm x 150mm
Recycled timber panels around the aluminium rafters, which were powder coated mat black
Back beam to support the frame
Retractable gutter
Downpipe
Flashings along the rafters and at the back
The end result? A cool, rustic looking outdoor area that is totally consistent with the establishment's style and vibe.
The retractable roof component, with its light grey fabric is quite understated, providing the clientele with sun, wind and rain protection, without being noticeable. When the weather is good (which it often is in Manly!), the roof is retracted, allowing the cool sea breeze or warm winter sun to complete the 4 Pines experience – great beer, great food, and great atmosphere!
Whether you own or run a pub or restaurant, or whether you have a home –  if you're looking to create a great outdoor area that can be enjoyed throughout all seasons, and all climates, why don't you grab that phone out of your pocket and give us a call?
Why Aalta Australia as opposed to any other awning company? The answer is simple – we won't just throw product at you; we will make sure the awning you get is integrated with your building so that it not only functions well but looks great and enhances your outdoor experience…just like 4 Pines Manly!
Out of Office Hours? We will call you back.