Retractable Roof Over Deck
Not all roof shading systems are alike. Here are a few options available on the market:
Poly carbonate or glass roofs – whilst they offer good rain protection, they are extremely hot when the sun is over head, making the area underneath the roof unusable in summer. You would then need to find a shading system to be fitted either above or below the roof over the deck.
Tilting aluminium roofs – the powder coated aluminium blades tilt up to 130 degrees, giving you protection from the wind, rain and sun and allow air circulation over the deck when they are tilted. Unfortunately, the blades are always above you, even when tilted, so you can never enjoy a clear sky at night or the full winter sun. When the blades are closed, the roof over the deck blocks the light entirely, creating a dark space in your outdoor area.
Fixed shade sails – these can look quite attractive, particularly if you are after a nautical look. With the option of a PVC fabric, they can shed water, offering you some rain protection. Being fixed, however, means you permanently have a roof over your deck.
Retractable Roof – the above three options have their plusses. But Aalta's recommendation is the Retractable Roof. Whether it is over your deck, in a courtyard, or an upstairs balcony, our retractable roofs offer you full sun, wind and rain protection and with the push of a button, retract completely to reveal the open sky.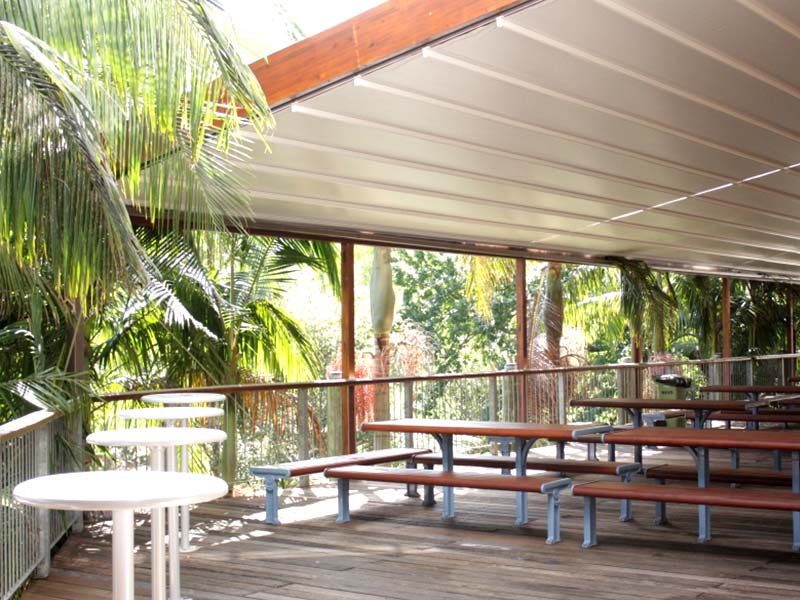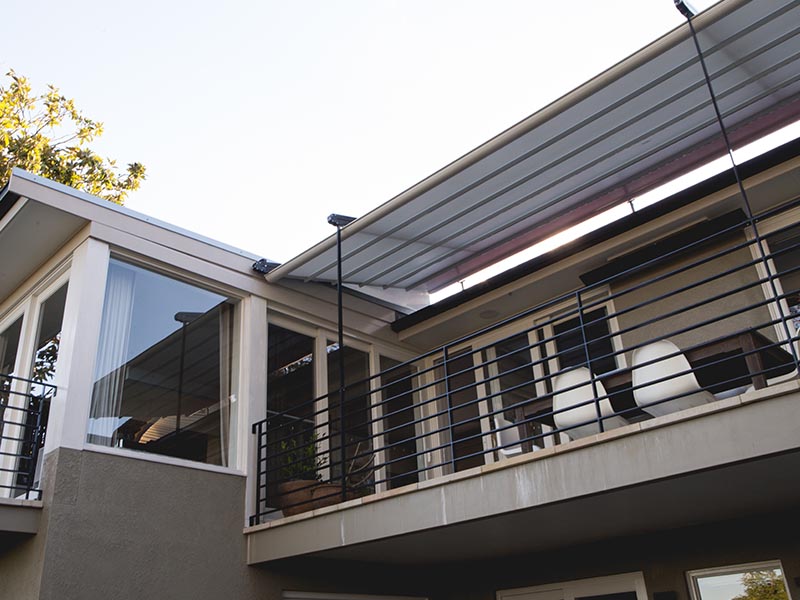 What is a Retractable Roof?
A retractable roof is an openable roof system, made of PVC coated polyester fabric that concertinas  along a track system to open the roof area. When extended, the roof is held under tension, which ensures it is extremely durable and resilient to winds and rain. Best of all, Aalta retractable roofs are automated, so you can control your roof with the touch of a button. For full control over your outdoor environment, a retractable roof is key.
Are Retractable Roofs Right For You?
If Aalta's range of retractable awnings don't provide the weather protection you seek, why not consider our retractable roofs? Our retractable roof shading systems are ideal for when you want protection from the elements, to create an outdoor living area, and to completely open up your space – allowing you to gaze up at that magical night sky and stars. If it starts to rain, you can just as easily close it up, allowing you to still use your outdoor space without having to run inside and store away those outdoor cushions!
Our Roofs
Aalta understands the importance of design and quality, and as such, retractable roofs transform your outdoor area into an attractive and functional outdoor living space. If you're interested in shade and protection from the elements, privacy or simply increasing your quality of life, our retractable roofs can help.
Aalta provides a variety of options, from custom-made timber support structures to a wide range of powder-coated aluminium frames and even free-standing systems. This means that no matter which property you have, whether residential or commercial, we can design and supply you with a retractable roof that will allow you to make use of the outdoors all year round.
Benefits of Retractable Roofs
Retractable roofs offer ideal shade. Although in winter, the sun's warmth is welcome, in summer it can feel overbearing. Retractable roofs provide shelter from the scorching Australian sun when extended.
Water-proof – in heavy rains, the retractable roof, when extended, is held under tension, and with a 6 degree pitch and integrated guttering system, it provides protection from the rain, so you don't have to pack up your alfresco lunch and race inside!
Unlike permanent roof structures or aluminium tilted roofs, you can enjoy a completely open sky by retracting the roof with the push of a button.
With the option of translucent or opaque fabrics, you get to choose whether you want natural light to filter through or to block it out completely.
Retractable roofs can be customised to fit your needs. This includes easily combining them with outdoor blinds and/or curtains to create a complete outdoor room.
For night-time entertainment, retractable roofs can be fitted with lighting systems.
Retractable roofs protect your outdoor furnishing, by shielding your furniture from both the summer sun and the winter rains.
Expands your outdoor living area. With our beautiful Sydney climate; whether it's winter, spring, summer or autumn, we all want to spend as much time outdoors as possible! Having a retractable roof allows us to convert our outdoor areas into enjoyable and functional spaces.
Why Choose Aalta?
Aalta Australia has provided shading systems, custom-made retractable roofs and awnings in Sydney for over 40 years. We are focused on creating beautiful outdoor areas that will enrich your quality of life – because in our eyes, outdoor spaces matter! If you're interested in creating an aesthetically pleasing and functional outdoor area, contact us today.
We will stay with you for the whole construction process, from enquiry to finished product, during which we will assist with the design and layout to ensure that your outdoor space will be transformed to truly meet your needs. Aalta can maximise your space to make it bigger and spacious – so you can happily entertain whilst also having the opportunity to cover up should you desire to. Contact us today on 02 8065 4911 for more information.
Out of Office Hours? We will call you back.