We're Bringing Stripes Back
When we used to think of awnings, we would think of the old khaki green and beige stripe drop down awnings at the front of grandma's house. Something about those colour combinations – don't forget the maroon and green – have totally put us "modernisters" off the coloured stripe!
It seems we now go for the neutral palette of plain white (so many types of white to choose from!), or off-white (but not too cream). Some of us have even ventured away from the whites and chosen taupe, latte, cacao or the very sophisticated charcoal – simple, elegant, stylish, modern and unobtrusive. And do you know what? There is nothing wrong with those – in fact, my very own home has some ivory awnings, and yes, they do look great!
But sometimes I come across homes and commercial places where the plain whites, taupes and charcoals aren't necessarily the best option for the awnings or sun shade systems. These places need a different finish on their awnings, something that will make them pop, even draw attention to the awning rather than divert the gaze away from the awning to other elements in the area. Dare I say I believe sometimes these buildings are in need of some stripes!
Let's try to put the khaki and beige out of our minds and start considering other striped options for awnings and retractable shade systems.
Take for example this home in the Eastern Suburbs of Sydney. They chose the bold blue and white stripe for their BX260 Folding Arm Awning. A plain colour would have looked, well…so plain! Instead they have beautifully matched up their Mediterranean look of the back yard with the stripes.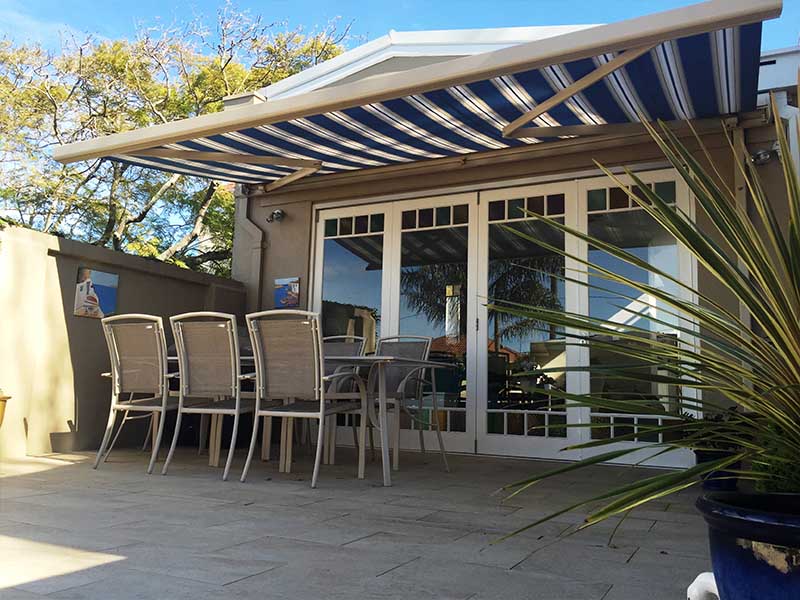 Here's a job we did a while back at a primary school in Victoria. The huge retractable roof over the play area means that the children can be outside playing even on rainy days – I'm sure the teachers LOVE it! On beautiful sunny days, the roof retracts so that the kiddies can get their dose of vitamin D. Of course "no hat no play" policies are in place to avoid too much sun. What I think is amazing is the colour of the roof! Wow! Who would have thought that a multi-coloured awning that is so big can work so well? The cloth was made from panels of Ferrari 502 fabrics (a PVC coated polyester cloth) welded together to create this wonderful structure that not only protects the children from the weather but looks fantastic.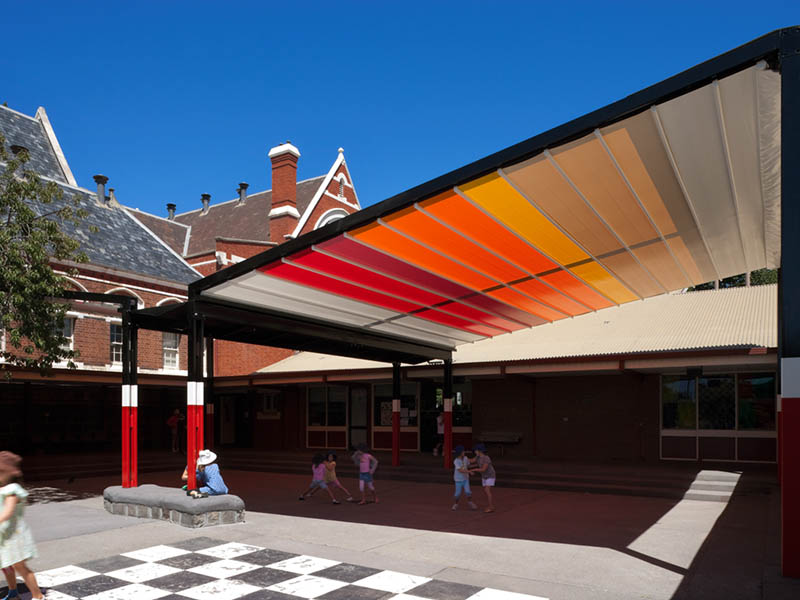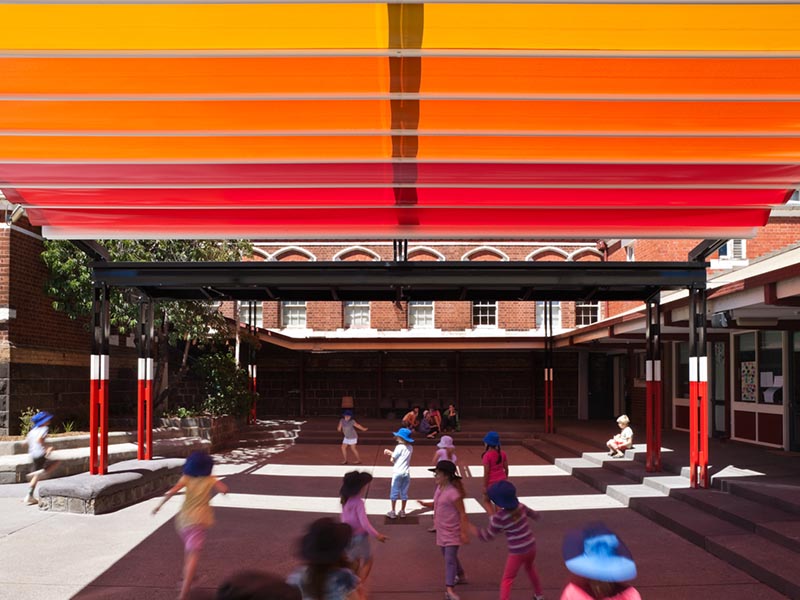 What do stripes have to offer that plain, neutral colours don't?
They make a statement about you – you're bold, adventurous and want to step outside the neutral zone
They make a statement about the building – it's more than an ordinary structure that deserves attention
They can be playful if using bright colours or sophisticated if using muted colours
…Or they can be both playful and sophisticated if using a combination!
They stand out from the rest
One more very important and more functional aspect is that they hide unsightly dirt marks such as bird droppings!
So, the upshot? Let's step out of our safe neutral, plain zone and start considering other possibilities. Let's bring the stripe back into the 21st Century with a sense of fun, colour and boldness.
Still not convinced? We'd be more than happy to help you choose your next awning fabric and to show you our great range of stripes. If you still want to go for the plains – that's all good too, we have plenty to offer you as you design your 3rd space.
Out of Office Hours? We will call you back.