Enhance Your Outdoors With Outdoor Curtains
Having an overhead awning or roof is ideal for providing shade and protection from the rain. However, when the sun is low in the morning or afternoon, causing glare and heat – a vertical system is ideal. Outdoor curtains address this issue and also act to enhance your outdoors – it's no wonder they're increasing in popularity!
How Outdoor Curtains Complete Your Outdoor Living Space
No matter which outdoor living space you have, outdoor curtains can add functionality and grace to it. They provide a modern alternative to traditional straight drop awnings and add a new dimension to the otherwise hard lines often seen in outdoor areas. The softness and fullness of the fabric billow beautifully in the breeze, adding style and romance to your outdoor area.
Outdoor curtains are also available in a variety of beautiful outdoor fabrics, adding colour, texture and movement to your outdoor area. The slim and compact aluminium powder coated curtain tracks are also available in black, white and platinum – so you can create your ideal living space.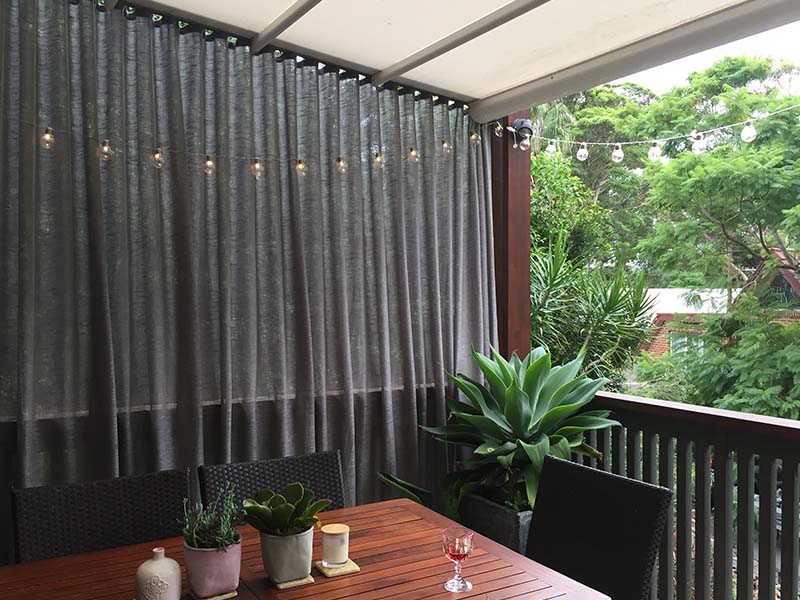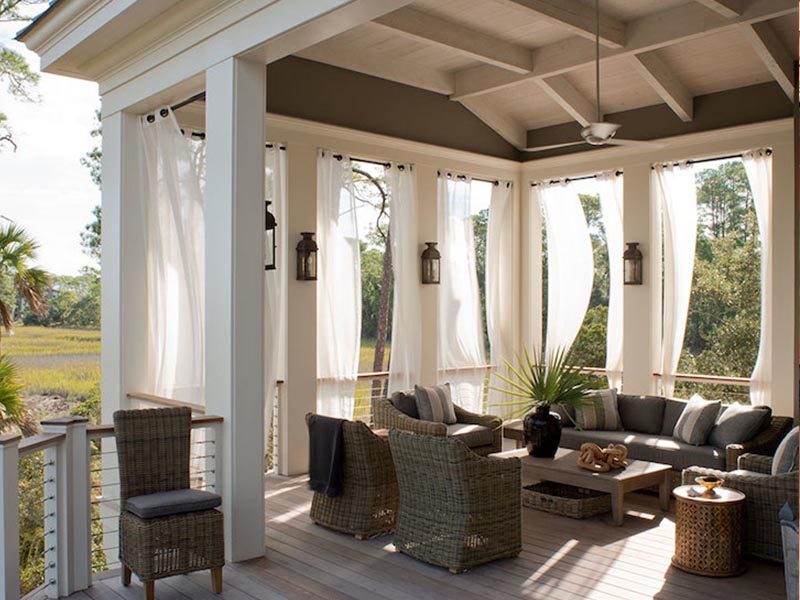 Advantages of Outdoor Curtains
1. Aesthetics. Not only do outdoor curtains add stylish and elegant elements to your outdoor living space, but they can also be mixed and matched with other features in your outdoor area, such as cushions, furniture and lighting.
2. Their ability to reduce harsh sunlight is a significant benefit – the fabric is soft enough to let a light breeze through but solid enough to reduce any harsh sunlight. This is ideal for summer, as it helps reduce the heat caused by the Aussie sun!
3. Outdoor curtains can help you block out the outside world, providing you with extra privacy and security. This isn't at the expense of comfort; however, you will still feel the breeze.
4. On the cooler days or evenings, outdoor curtains form a 'screen' to keep the warm air inside the enclosed area, and with outdoor heaters, you can enjoy the cooler months outside!
Why Choose Aalta
Aalta Australia has provided custom-made awnings, retractable roofs and patio awnings in Sydney for over 40 years – and now we are happy to offer outdoor curtains as part of our services. We are focused on creating beautiful outdoor areas that will enrich your quality of life – because in our eyes, outdoor spaces matter!
If you're interested in creating an aesthetically pleasing and functional outdoor area, contact us today. We will stay with you for the whole construction process, from enquiry to finished product, during which we will assist with the design and layout to ensure that your outdoor space will be transformed to truly meet your needs. Imagine an outdoor space decked out with curtains, pretty lights and comfy cushions – completely ready for summer and BBQs with friends and family. Contact us today on 02 8065 4911 and we will help you achieve that.
Out of Office Hours? We will call you back.