Straight Drop Awnings for this Mosman Home
Sometimes all a space needs is a little extra privacy and shelter from the hot western sun. This can be achieved by Aalta's contemporary straight drop awnings, as displayed in this beautiful Mosman home.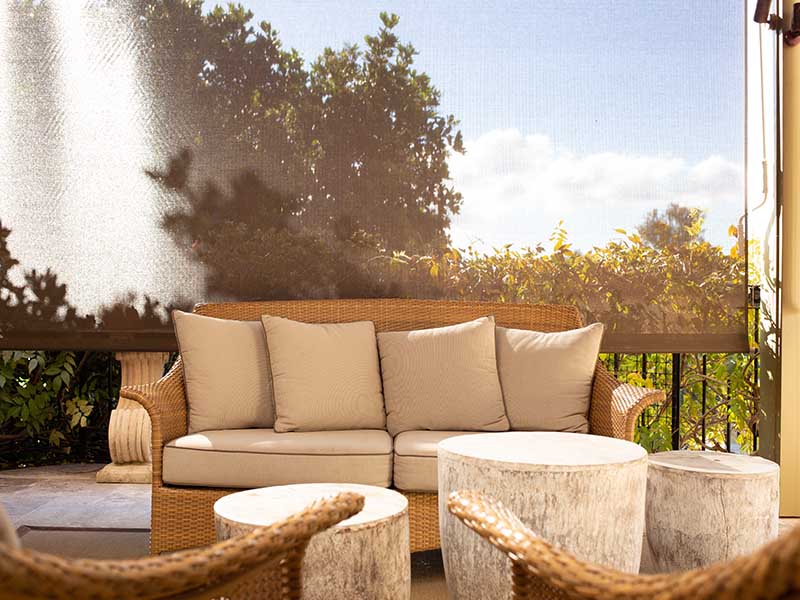 With a new alfresco area completed, our clients wanted to be able to entertain friends and family but found the area too hot and glary when the sun was low. The straight drop awnings were installed to reduce both the heat and glare creating a comfortable outdoor living area. The Outlook 95 (colour Mocha) mesh fabric allowed the clients and their guests to still enjoy the view of their beautiful garden.'
The straight drop awnings have a maximum width of 5m, which was ample to provide the two openings with an awning to span the distance without the need of multiple cloths. Guided by stainless steel cables and retracting into a neat recess, these awnings are not only functional but complement the aesthetic of this classic family home.
The straight drop awnings can be motorised for ease of operation such as in this project or can be manually crank operated. They come in a vast range of fabric colours, textures, and materials.
Aalta Australia is an Australian distributor of premium shade and weather solutions. Being in the industry for over 40 years we can confidently consult, supply and install the product that best suits our client's needs. What sets us apart from our competitors is our ability to custom design spaces, utilising small building projects to assist in the functionality and aesthetic of our projects.
Out of Office Hours? We will call you back.