I love that winter is over and the warmer months are just around the corner! I love the crisp morning air and the smell of jasmine in the suburban streets reminding me that we have transitioned from one season to another. I love that the days are longer and when it's 6pm you realise that it's not dark yet and there's probably an hour or so left of daylight.
That time of day signals the end of the working day and on a Friday, it signals the start of a weekend! Whether the weekend brings with it sporting activities with the kids, working in the garden or partying with friends, Friday afternoon is a great time to breathe a sigh of relief, kick off your shoes, crack open a beverage of your choice and enjoy some rest and relaxation!
As the weather turns a little warmer, for me a Friday afternoon means chilling out on my deck with friends, family or at the very least my dear husband of 29 years! But even during this time of year, the evening can become a little chilly and being outside can be a little uncomfortable. Being intent on making our deck our little sanctuary, away from work and family life, we have designed the area so that we can be outside even in the cooler weather.
Not too many weeks ago on a Friday evening, after a busy working week, we decided that we would stay home and relax. After a great dinner (can't remember what we had, but I do love to cook, so I'm sure it was yummy!) on our outdoor table, we retired to the lounge on the deck. It was a beautiful evening, not too cold, but definitely not balmy. We struck up the eco heater, which doesn't give off much heat but creates a wonderful ambience as the blue flames dance around. Outdoor throws, candles, lights out or very dimmed, our Bose Mini playing music, red wine, and I think some chocolate set the scene for our chill out session! We were only just commenting on how gorgeous the evening was when we heard a few drops of rain on the roof…oh I forgot to mention the roof! We were outside on our deck which has a retractable roof (a timber Duet actually) over it. The pitta patter of rain drops became more frequent and soon enough it was quite the downpour! How the evening turned so wet so quickly was quite astonishing!
Needless to say, without our retractable roof, we would have had to scramble inside. But there we were outside in the rain without one drop getting us wet! We remained dry (from the rain that is!). I can't recall much else, as I think I fell asleep on the lounge until the eco fire ran out!
Talking about being out in the rain, the deck also transforms into an excellent party venue! We hosted our daughter's 21st here. With 80 people, we needed the area to remain dry. Unfortunately we selected probably one of the wettest February days I have ever encountered. The party went as planned and with the help of a few tarps annexed off the deck and our retractable roof we kept the rain at bay we dance, drank and made merry outside in the rain!
Here are a few bits of information about our deck and how we transformed it into our 3rd space:
Our home sits on a very small block – only 200m2! We have no front or back yard, just one lower level deck of about 5m x 4m and an upper deck of about 1.5m x 9m. The outlook is surprisingly bushy for a Manly residence!
A few years ago we renovated– actually we gutted and transformed the brick 1970s Greek home that boasted a colonial timber spiral staircase, colonial timber kitchen and incredibly ugly fittings into a modern but still retro home.
The front lower deck plays a very important role in our home. Having two adult children who still live at home, we needed a space where we could escape from each other. So what did we do to it?
We installed large commercial type sliding doors from the living room onto the deck giving it a great indoor/outdoor feel.
We tiled the entire area (inside and out) with 600×600 travertine tiles, built a privacy screen as we have a public path going up the side of our house, put some dimmable lighting in and last but not least installed a Duet Retractable Roof.
Our next step will be to put some soft outdoor curtains along the western side of the deck to screen out the summer western sun and to prevent the cold air drafts in winter. Just sourcing some great fabrics for this next project and will keep you posted on what we come up with!
I can't stress enough what a superb product the retractable roof is! No other structure would give us so much flexibility in using our outdoor space.
Interested in transforming your outdoor area so you can be outdoors in the rain too? Give us a call or fill out a quote form, we'd me more than happy to chat.
Deck before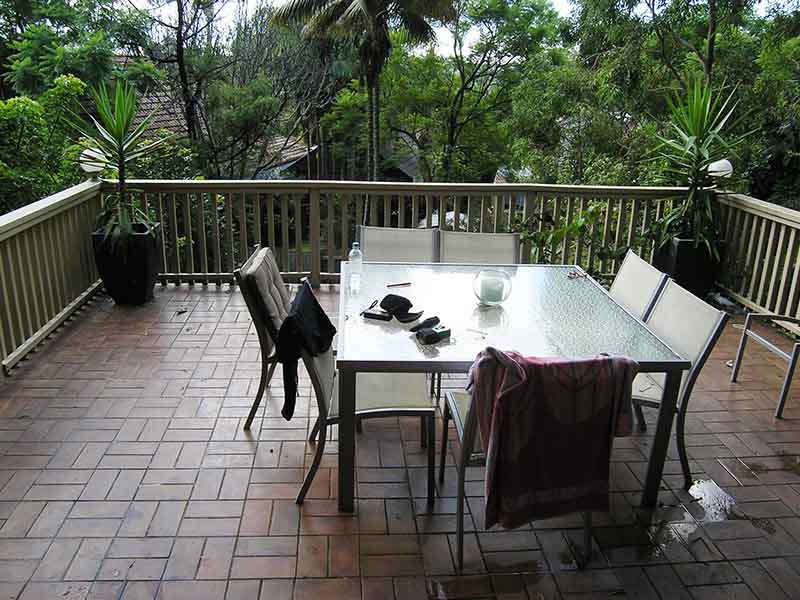 Deck After
Posted by Aalta / Posted on 10 Sep