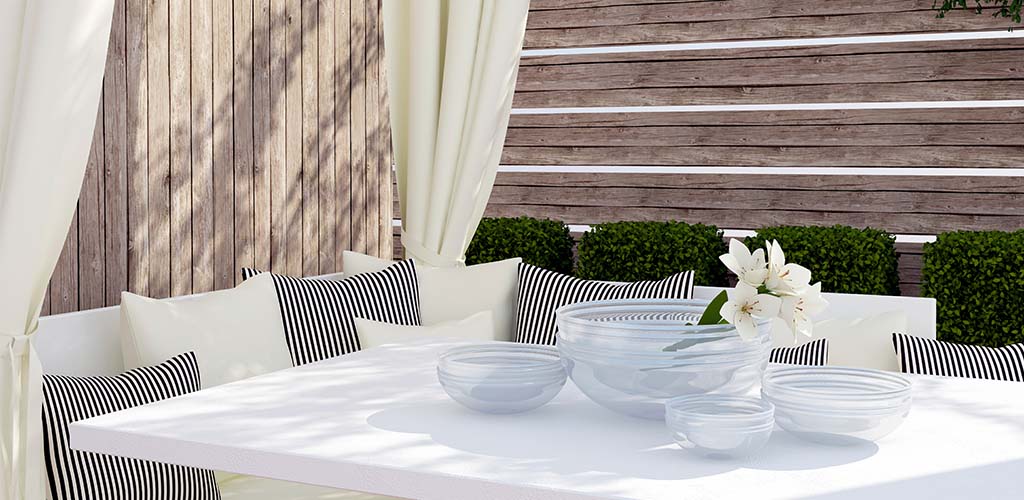 WHY CHOOSE OUTDOOR CURTAINS?
Outdoor curtains are an elegant and stylish addition to enhance your outdoor area and it's no wonder they are increasing in popularity.
Having an overhead awning or roof, whether retractable or fixed is perfect for providing shade or protection from the rain. However, when the sun is low in the morning or afternoon, a vertical system is required to reduce the glare and heat.
Outdoor curtains are a modern alternative to traditional straight drop awnings. The softness and fullness of the fabric gives a new dimension to otherwise hard lines that are often seen in outdoor areas. When there is a breeze, they billow beautifully adding a romantic and whimsical element to your outdoor area.
Not only are they functional in reducing the heat and glare, they also provide privacy from neighbours and add comfort to your outdoor space.
Beautiful and functional
With a variety of beautiful outdoor fabrics now available on the market, the curtains are custom made here is Sydney. The slim and compact aluminium powder coated curtain tracks are of the highest quality and are available in black, white or platinum. The tracks can be straight or bent up to 100mm radius to go around corners if required.
Outdoor curtains will add colour, texture and movement to your outdoor area. Have some fun with contrasting or matching cushions, rugs and potted plants to create your outdoor living space.
Out of Office Hours? We will call you back.