CUSTOM-MADE, QUALITY RETRACTABLE AWNINGS, RETRACTABLE ROOFS,
BLINDS AND SHADE SYSTEMS FOR YOUR SHADE SOLUTIONS IN MANLY
Enrich Your Outdoor Space With Custom-Made Awnings in Manly
As a Manly based company, Aalta understands the importance of connecting with our beautiful environment, whether you're out in Manly enjoying the cafés and bars or at home relaxing in the gentle sea breeze, or watching the rain spatter down the garden leaves – it's these little touches that you often miss… if you don't have a nicely shaded area that is protected from the weather.
Are you looking to get new awnings for your Manly household, café, bar or restaurant? Perhaps a new Retractable Roof or Shaderunner® for your café courtyard? No matter what you're looking for – we're here to bring your outdoor space to life. To realise your outdoor vision, we offer you a diverse range of manual and motorised shades or awnings.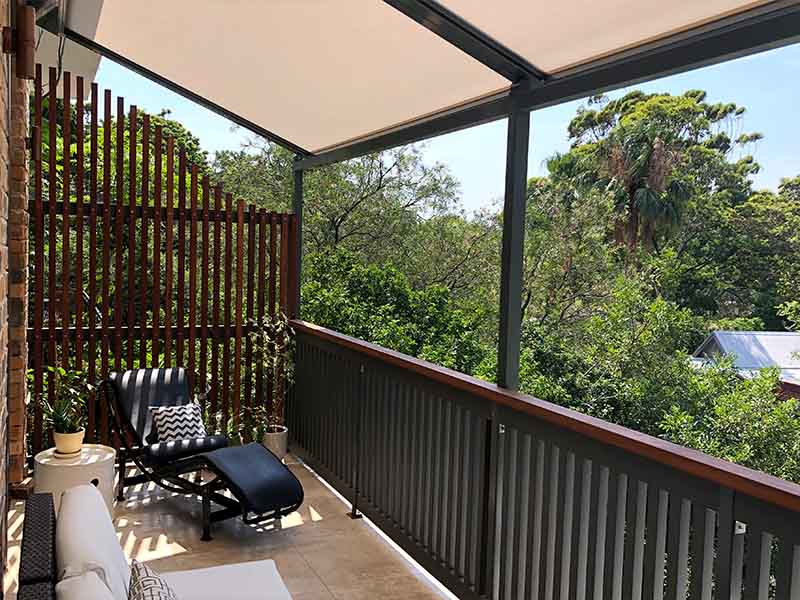 So, what can our custom-made shades and awnings do for your Manly property? Your home is probably one of your biggest assets. Installing an outdoor shade system will enhance your property's value by creating an outdoor area that is comfortable on those hot summer's days or protected from the wind and rain, increasing the livable space of your home.
For the cafés and restaurants, our retractable shade systems will create an outdoor area for your patrons to enjoy your venue without worrying about the sun's heat and UV rays, or rain and wind, if installing a retractable roof. Essentially increasing your clientelle even in inclement weather.
Our Retractable Roofs, Patio Awning, and Shaderunners® can be installed onto your existing structure, as part of a new extension, or on custom-made frames.
Our Folding Arm Awnings are particularly versatile. As they do not require additional posts or columns to support them – the extruding aluminium parts do all the heavy lifting.
Our Drop Arm Awnings and Straight Drop Awnings can be installed alongside any window, verandah or balcony.
For a complete list of our sun and shade systems visit Our Products.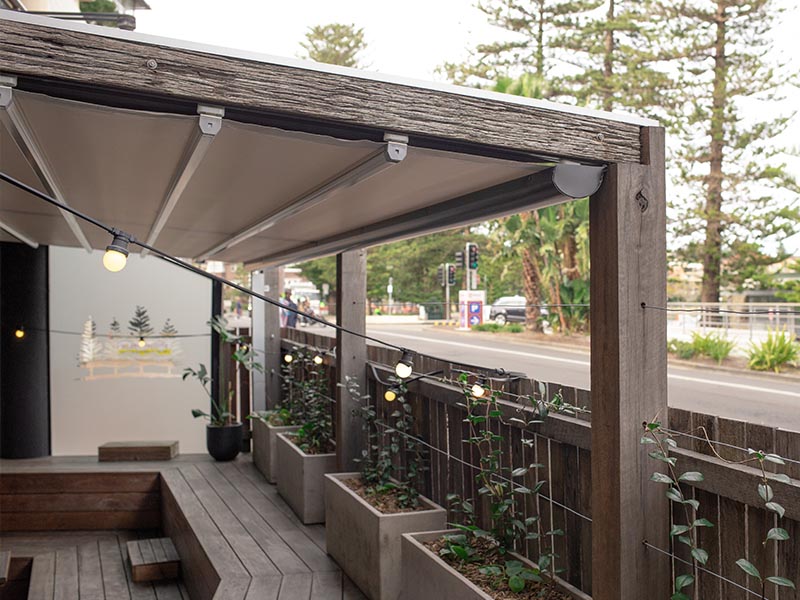 Our awnings are made from quality fabrics including solution dyed acrylic and polyester mesh and pvc coated polyester fabrics, which are extremely durable and resistant to the natural elements.
Acrylic & PVC coated polyester fabrics block 100 percent of harmful UV rays
Mesh fabrics block up to 95 percent of harmful UV rays
PVC fabrics are water proof
Reduces glare
Provides plenty of natural sunlight when retracted
Resistant to flame combustion
Fast-drying
Resistant to mould and mildew
Keeps your friends, family and guests comfortable all year round
With each installation, you can choose from many vibrant colours, neutral and striped designs to match your property.
Find out how awnings in Manly can enhance your outdoor space today!
We can arrange a design consultant to visit your premise, who will discuss your project needs and provide you with a concept plan. If you'd like a quick cost estimation based on your ideal product, we can arrange that for you too.
For an additional cost, our designer can produce a computer mock-up, to give you a 3D representation of what your installations will look like.
It's easy to book an appointment with us. Simply call (02) 8065 4911 and our friendly team will book a consultation session for you.
By filling out an online contact form, you can tell us almost everything we need to know about your project.
Once we've received your enquiry, we'll provide you with a cost estimation within the next 1 – 2 business days. Or we can arrange a consultation.
We want to work with you to help you achieve maximum protection from the sun, wind and rain so you can enjoy the space you're in! Contact us today to arrange a consultation and see how together we can transform your outdoor area…
Out of Office Hours? We will call you back.