How to Choose Retractable Awnings in Sydney
Are you a homeowner interested in putting a retractable awning over the deck in your backyard? Or are you a business owner looking to keep your customers happier by installing a retractable awning over the outdoor dining area?
You're going to find that there are so many different retractable awnings in Sydney to choose from and that it's very easy to get overwhelmed when trying to choose the right retractable awning for your home or business.
Fortunately, there are some simple steps you can take to pick out the perfect retractable awnings for any residential or commercial property in Sydney.  Here are a few tips on how to select your ideal retractable awning.
Find a Company That Sells Retractable Awnings in Sydney
The first thing you should do when you're in the market for retractable awnings in Sydney is find a company that specialises in selling them.
There are many different companies willing to set you up with the awnings you're looking for. But you shouldn't trust just anyone to supply you with awnings for your home or business.
Here are some of the things to look for in an awning company:
Experience in the awning industry
A large selection of quality retractable awning products – always enquire where the awning components are from and where the awnings are assembled
The ability to service and repair a variety of retractable awnings
Reliable awning installers
A friendly and efficient customer service team
Before you commit to buying retractable awnings in Sydney, do your homework and make sure you find a company you can trust. You want to know that your awning installation will go as planned from the very beginning.
Look at Different Types of Retractable Awnings
Once you've found a reputable awning company to provide you with both the products and the services you need, the next step will be to check out the different types of retractable awnings available to you.
Here are several of the options that you'll have (there are different models within each awning type, so be sure to click through to check them out.
Without the need for posts and framework, folding arm awnings extend up to 3.5m providing shade over your deck, patio or courtyard.
When not in use, they retract neatly away.
The Shaderunner® is a popular light weight, aesthetically pleasing, retractable shade sail that extends and retracts along stainless-steel cables avoiding the need for overhead tracks. It is ideal for providing shade over pools, pergolas and courtyards. Other shade sails include the Tracked Sun Sail that runs along aluminium tracks and retractable umbrellas.
With its sleek and contemporary design, the Patio Awning is ideal for providing sun protection over glass roofs, pergolas and courtyards. Extending along aluminium guide rails, and retracting into a compact headbox, the Patio awning is discreet, complementing any building.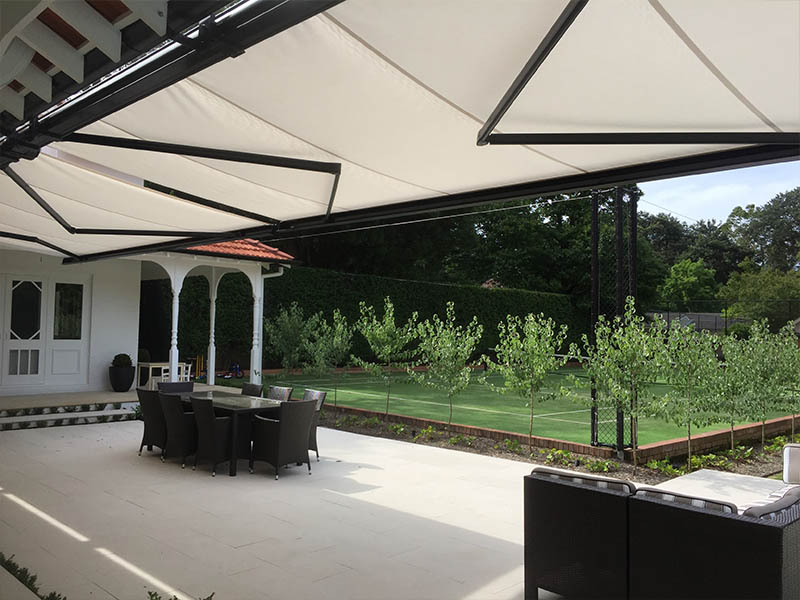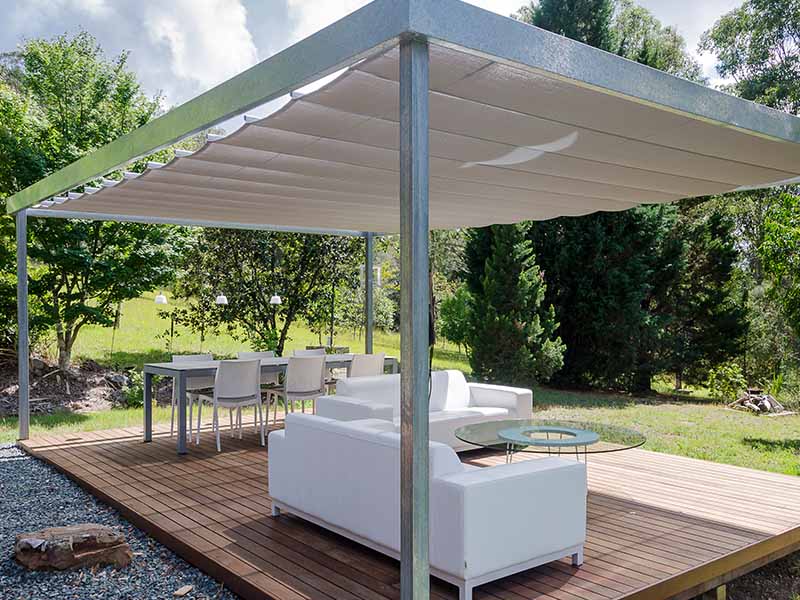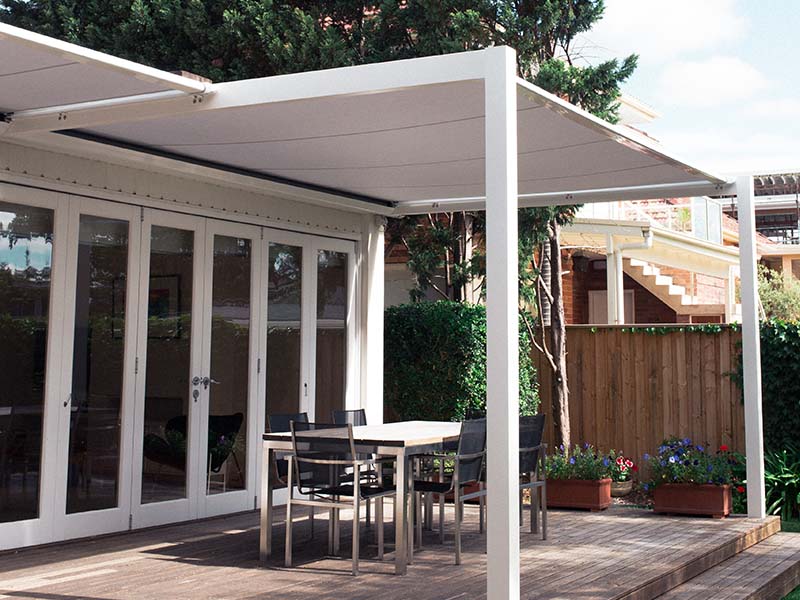 With a variety of designs to suit different needs, straight drop awnings provide privacy and protection from morning and afternoon sun. They are suitable over windows, on the sides of pergolas or patios
For total weather protection and to create the ultimate outdoor area, the Retractable Roof will transform your deck, garden, courtyard or beer garden into an area that can be used when it's raining, windy or sunny! Whether you want a roof to protect your outdoor area or want to enjoy an open sky, you have total control of your outdoor environment, and more!
Pivoting on two arms, the Drop Arm awning allows you to adjust the pitch to optimise the shade or view required; providing a cooler home, office or café.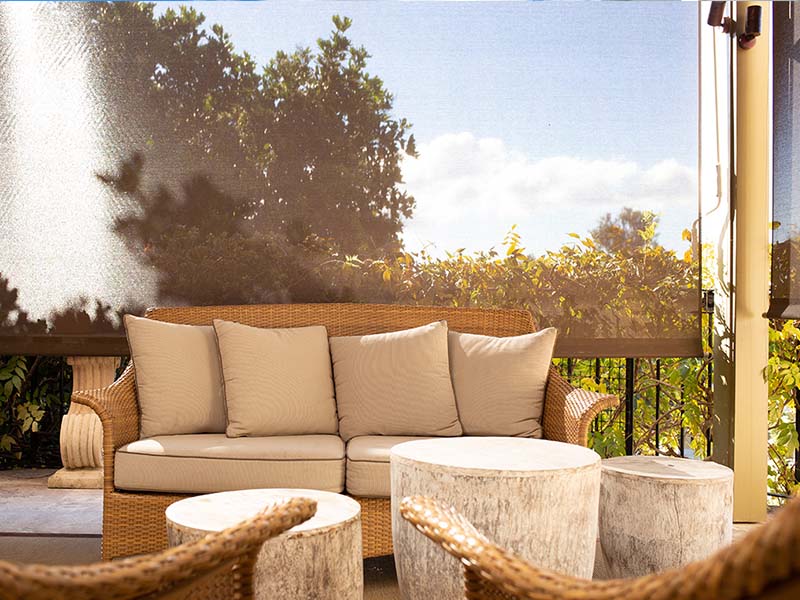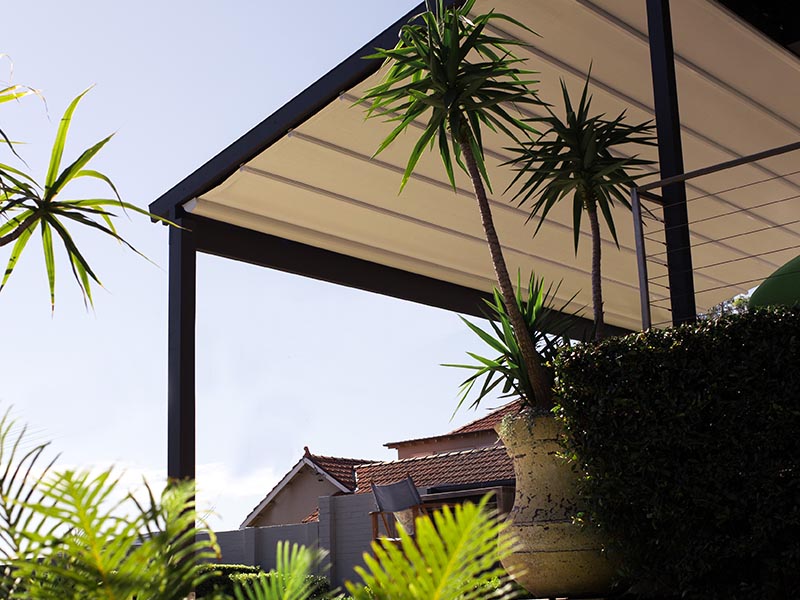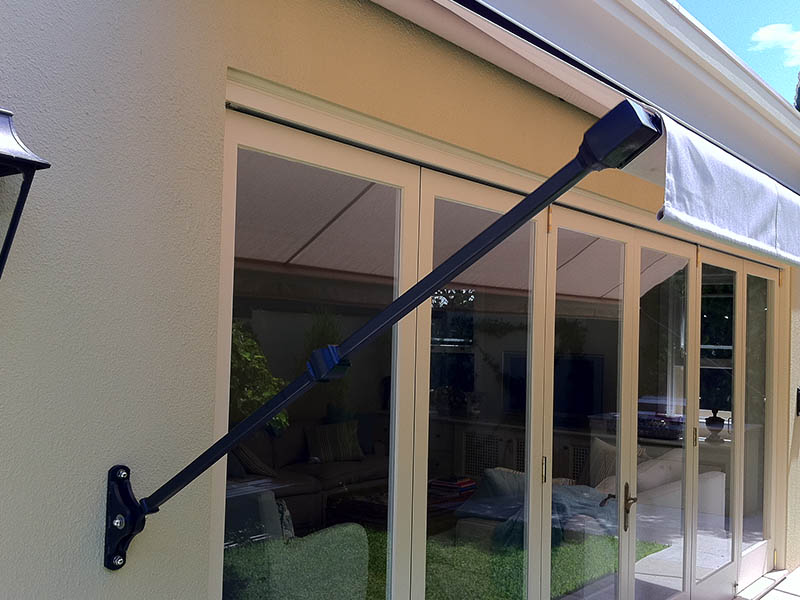 Each type of retractable awning operates in a different way and provides you with a different level of protection or function when it's installed.
By learning more about each of these awnings, you can make the right decision as far as which one will work best for your home or business.
Think About if You Need Motorised Retractable Awnings
Once you have an idea of what type of retractable awning will give you shade from the sun or protection from the rain, you will need to decide how you would like to operate it...and for most awnings, there are two ways that you can go about doing it.
You can use a crank operated system to manually control your retractable awning, or you can have your retractable awnings motorised so that you can control them either through the use of a handheld radio transmitter or a control switch located on the wall.
There is obviously extra costs associated with motorising retractable awnings. But it could be well worth the extra expense if you don't want to have to worry about manually controlling the awnings you set up outside your home or business.
Find Retractable Awnings with the Right Fabric
When we used to think of awnings, we would think of the old khaki green and beige stripe drop down awnings at the front of grandma's house. Not anymore. Awning fabrics have come a long way in functionality and design.
Today your retractable awnings can be almost any colour you want and depending on the function of the awning, you can choose from a mesh, acrylic or PVC. You can have the fabric either match or complement the colour of your home or business.
All fabrics are UV-rated and will stand up to the sun without showing signs of fading for many years. They have been treated against mould and mildew, so they look great for much longer. Regardless of which type of fabric you ultimately choose, you need to carefully consider which fabric will provide you with the best look as well as the best protection. A reputable awning company will be able to help you in your decision making process.
Check for Retractable Awnings with Extra Features
When you work with the right retractable awning company, they'll be able to provide you with optional additional features for your awnings if you want to take advantage of them.
For instance, there are sun and wind sensors that can be installed along with retractable awnings that will automatically open up and close your awnings when you're not at home or open for business. They'll work to keep your home or business more comfortable by providing it with shade when you're not around.
There are also motion sensors that can be installed on certain retractable awnings to prevent them from opening or closing when there's a chance they could sustain damage. These sensors can also be used to protect your awnings during especially windy conditions when you're not around to close them yourself.
Consider the Cost of Retractable Awnings
You should not simply choose the most affordable retractable awnings in Sydney when you're in the market for them. If you make your awning decision this way, you could end up installing an inferior product on your home or business.
Find the awnings that will fit well within your budget while still providing you with quality components and all the features you need.
Purchase the Best Retractable Awnings Now
Have you been thinking about installing retractable awnings in Sydney? Now that you have a better idea of the different types of awnings, start the process of picking some out today.
You'll find plenty of awning options out there. As long as you take your time and consider everything mentioned here, it shouldn't take you too long to choose the retractable awnings that you like most for your patio, deck, or other outdoor space.
Contact us now to hear more about the retractable awnings that we have to offer.
Out of Office Hours? We will call you back.