How to increase your garden's livibility in winter
At Aalta, we are big advocates of outdoor living in any weather. From relaxing on the patio with your Ugg boots and a good book to comfortable alfresco dining, there is no reason a bit of bad weather should spoil your plans. Find out how you can use your outdoor area during the colder months.
How to make outdoor living inviting in winter
When you think of winter entertaining, you probably think of sitting around a dining table with good friends and a bottle of red. You wouldn't normally think of moving the party outside, sitting under the alfresco while the rain falls.
But what if you could have the best of both worlds – comfort, and outdoor living in winter? After all, you have this beautiful garden that you've invested time (and money) into, so why not make the most of it all year round? Here are a few ways you can do just that:
Permanent patio roofing

Retractable awnings and shade covers

Drop blinds and curtains

Outdoor fire pits or heaters

Cosy furnishings

The right lighting
As the cold fronts start to creep towards Sydney, it's time to get your garden winter-ready. And with the added benefits of protection from the summer sun, spring winds, and autumn chill, you'll be able to enjoy your 3rd space in comfort, no matter the weather.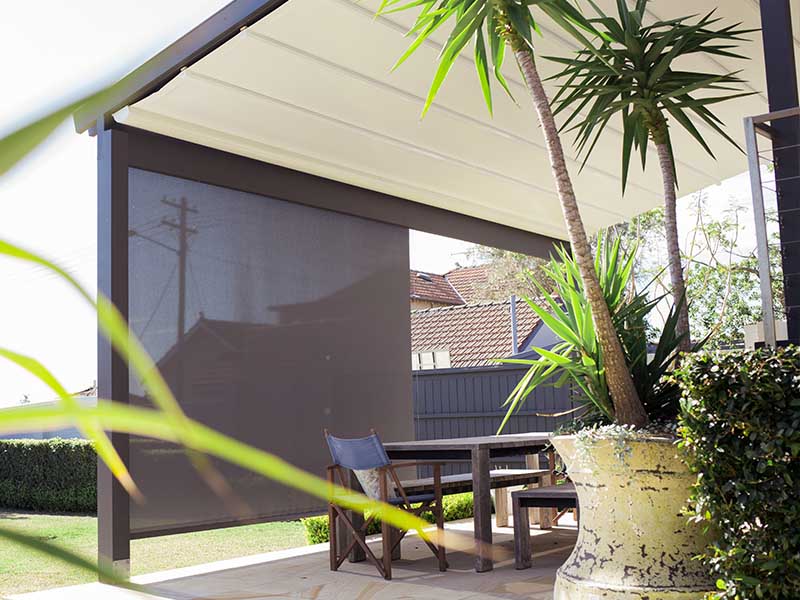 Awnings give you options
Let's start with the most obvious reason your deck, patio or alfresco dining area is uninviting in winter: exposure to the elements. So you need a shelter to keep the bad weather at bay. But what are your options, and how do you know which is right for you?
Retractable awnings
Make the most of the morning sun, then when the day gets cooler you can have full cover in a couple of minutes. And with so many different styles of retractable awnings available, from folding arm awnings to patio awnings and drop arm awnings, installed with manual or automatic controls, you can easily extend your living space while complementing your current style.
Retractable roofs
Retractable roofs provide even greater protection and the flexibility to enjoy your outdoor living space all year, on your own terms. At the press of a button, you can have the full coverage of a patio roof structure, or retract it to enjoy a balmy summer night under the stars. And you never need to worry about rain or wind: retractable roofs are built to withstand 100km/h winds and heavy rainfall, so you can entertain or unwind in your outdoor area and be cosy during the fiercest winter storms.
Fixed awnings
Building a permanent shade structure over your outdoor area is an effective way to keep the sun and rain at bay. Take the Shore fixed roof for example; it creates a smooth and seamless transition between indoor and outdoor living by joining onto existing roof and patio structures with a design customised to suit the space.
Blinds and curtains
Of course, installing a retractable patio roof or awning keeps you covered overhead – but what about the wind?
External louvres
For spaces that strike a balance between sunroom and alfresco area, external louvres are a tasteful finishing touch. With their clean lines and customisable design – fixed panel, sliding panel or hinged options – you can enjoy privacy and protection from the weather, or diffused sunlight and a refreshing breeze whenever you choose. 
Straight drop blinds
Keep the sun, wind and rain at bay with straight drop awnings designed for privacy and protection. All our straight drop awnings are custom made with minimalism in mind: that means no bulky overhead units, awkward uprights or ugly ropes. Plus, they can be secured on the inside or outside of the balustrade for maximum protection in any weather.
Curtains
Bring the feeling of a comfortable living room outside, with drapery designed to filter out sunlight and soften the edges of your alfresco area. Perfect for the contemporary 3rd space defined by comfort and cosiness, fade-resistant curtains are equal parts versatile and attractive.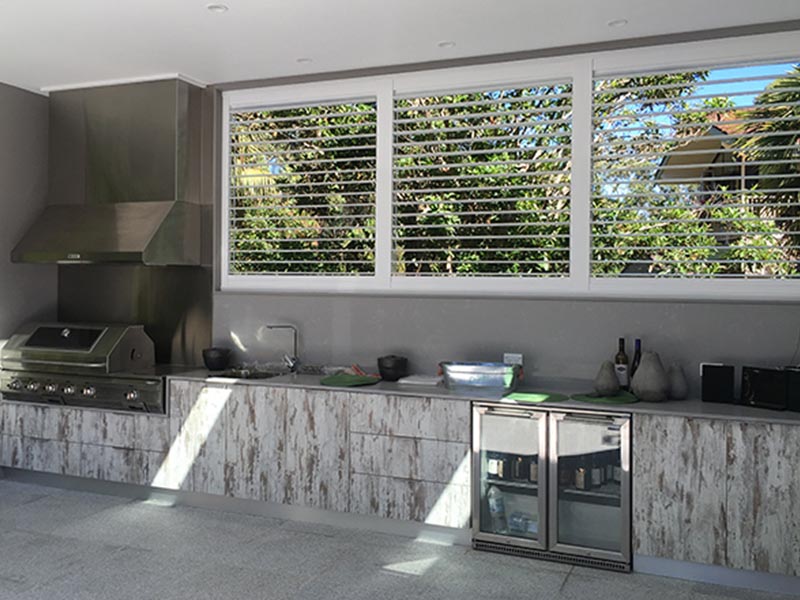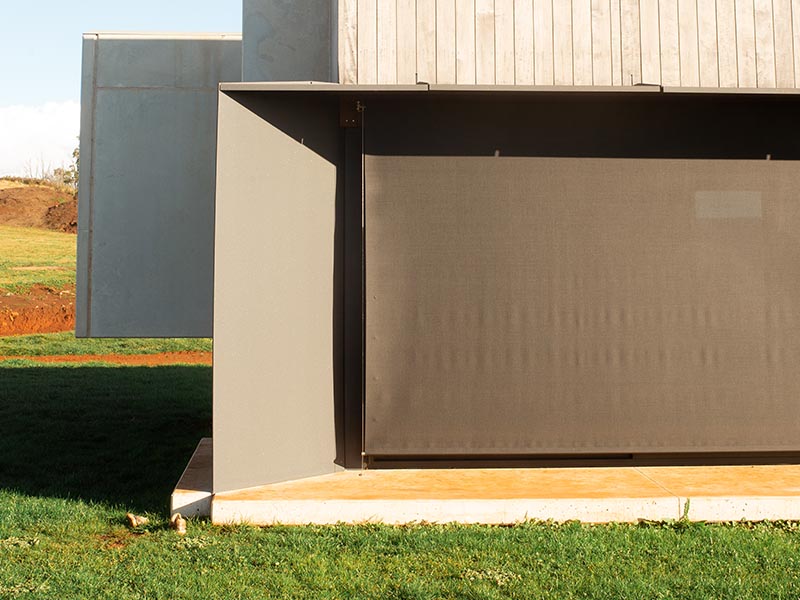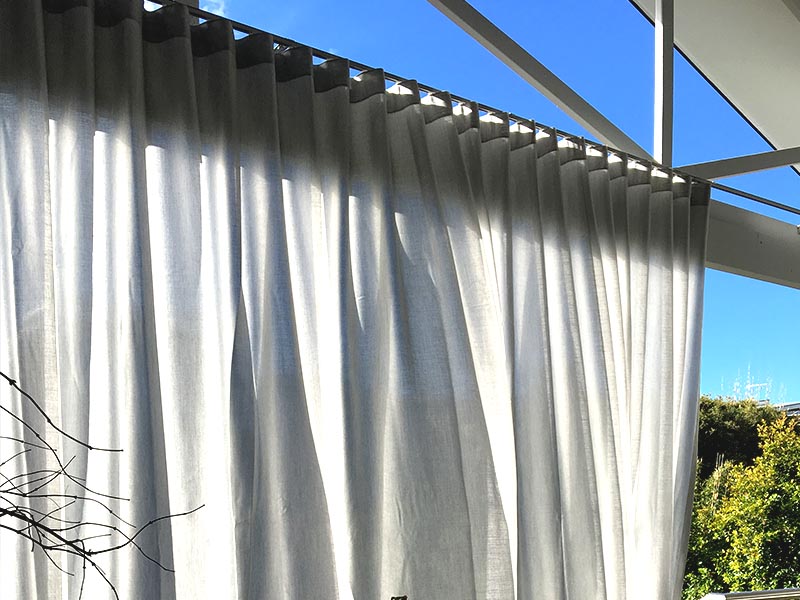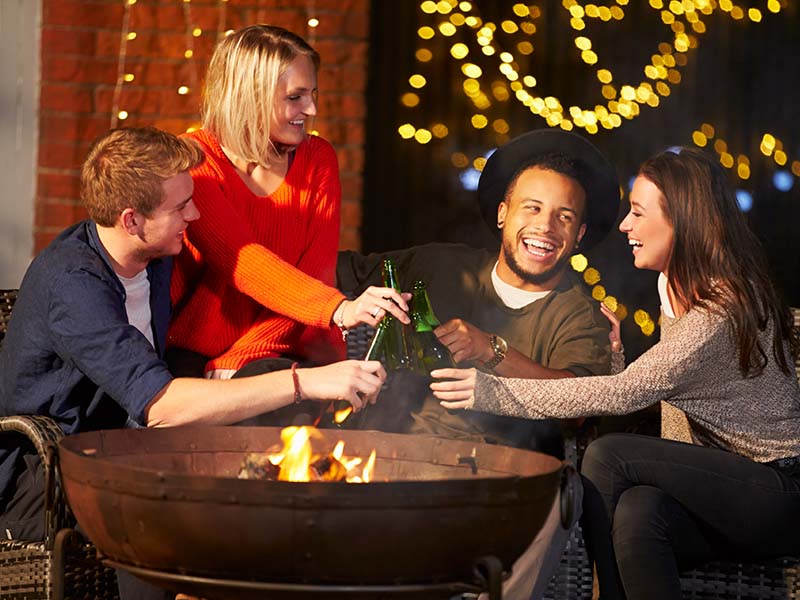 Outdoor heating
Turn up the cosy dial and enjoy your outdoor area to its full potential with an outdoor heating feature designed to match your space.
Fire pits are gaining popularity in Australia, and we're jumping on the bandwagon. On a crisp cool night, you can retract your awning and still be comfortable thanks to the warmth of your fire pit. There are all kinds of fire pits available at good hardware stores, from permanent in-ground fixtures to portable fire pits in all sizes.
If a fire pit isn't your thing, then an outdoor heater might be what you need to keep guests warm and cosy in winter:
Fixed heating panels installed overhead to provide general warmth

Heating strips attached to your patio structure

Portable heaters to wheel out warmth when and where you need

Chimeneas for a more rustic, elegant feeling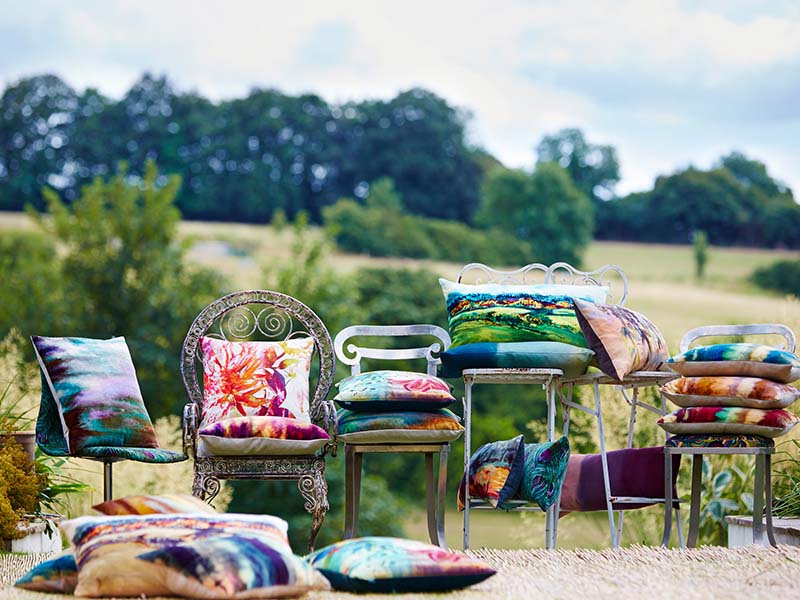 Soft furnishings
No outdoor area is complete without the finishing touches of soft furnishings. Warm tones and thick fabrics will not only exude the feeling of warmth in winter, they will also look the part.
Put away the summer pastels and cover your cushions in heavier fabric to keep your guests warm. Choose warm colours like burnt orange, copper, burgundy to accent your outdoor furniture with a cosy, inviting feeling.
Whether you're stretched out reading a book with a cup of tea, entertaining a full house of guests for dinner, or simply enjoying the warmth of your outdoor fire pit, there's no better feeling than being bundled up in a blanket.
The small touches can make a big difference, which is why we teamed up with Piega to provide soft furnishings and curtains to cover your whole home, inside and out.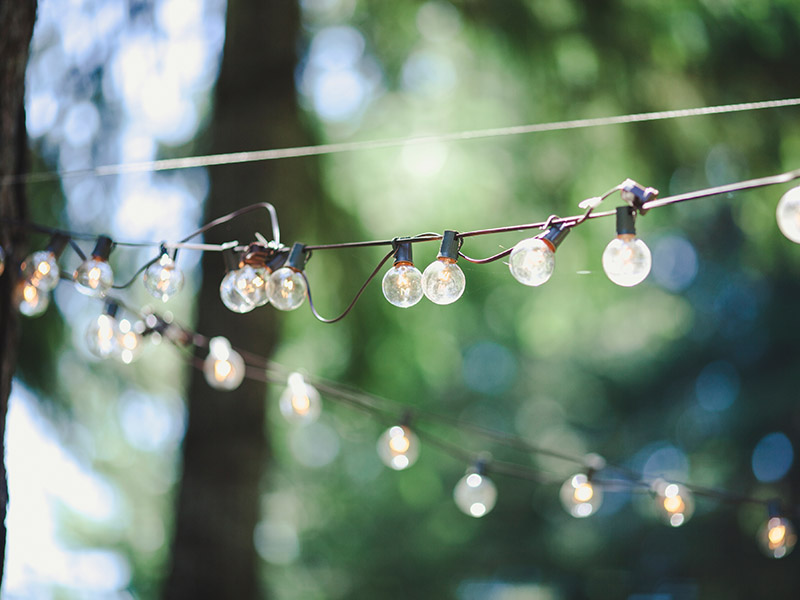 Mood lighting
Our final tip for creating cosy outdoor spaces in winter is to use the right lighting. Winter might be dark and dreary, but it's bright and warm under the protection of your retractable awning – perfect for entertaining or relaxing.
Rope lighting provides playful light around the edges of your alfresco, making the space feel larger than it is

Warm orange lighting emulates the warmth of a fire; you can use shades or coloured bulbs to bathe your outdoor area in warm light

Edge lighting around the base of your deck or patio creates an even, contemporary lighting feel that again makes the space feel large and inviting
Get your outdoor area ready for a Sydney winter
Aalta is ready for winter – are you? With the experience of over 40 Sydney winters behind us, we can help you enjoy your outdoor space to its full potential no matter the weather.
Get in touch today to discuss your options for retractable awnings, patio roofs, drop blinds and much more.
Out of Office Hours? We will call you back.