Outdoor Shade Ideas for a Comfy Outdoor Living Space
If you have an outdoor living space, you'll want to use it as much as possible. This is especially true with Sydney weather. The climate is normally warm and sunny and even the winters are mild.
With weather as gorgeous as Sydney's, the ideal backyard space is desirable. But with the sun constantly shining bright, it's important to have proper outdoor shade. Too much exposure to the sun can have damaging effects on you and your children.
So don't let the bright sun ruin your much enjoyable outdoor time with friends and family. There are plenty of ways to shade your outdoor living space without taking away from your home's aesthetics. And depending on what others in the neighbourhood are doing, it could even add to your property's value.
Continue reading for our list of awesome and visually pleasing outdoor shade ideas.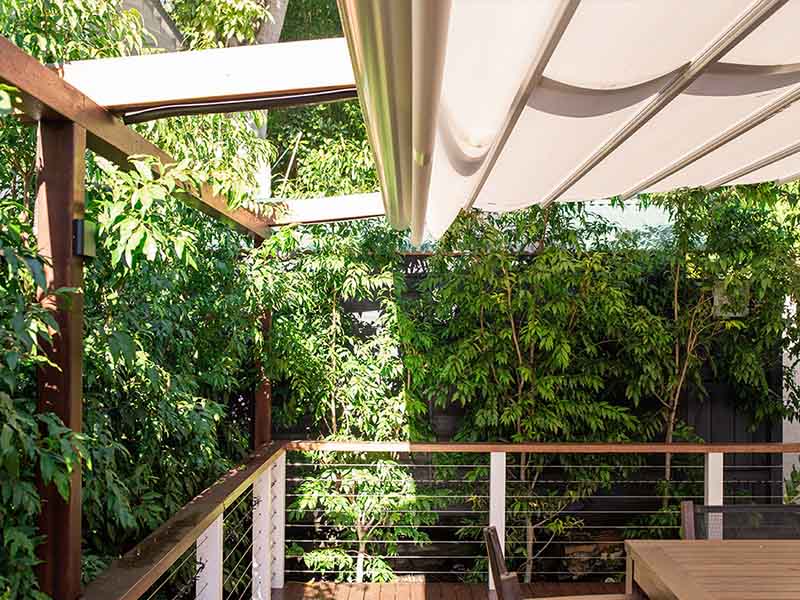 Retractable Roofs
Adding a retractable roof to your home is a great way to create an outdoor living space that can be used in all weather conditions. A retractable roof allows its users to open and close the roof as needed.
When the sun's rays are too strong, enjoy optimal shade by closing the roof. And consider leaving the roof open when the sun isn't overwhelming and you want to enjoy a balmy afternoon or even a starry night – because sometimes, you just don't need a roof!
There are a range of retractable roofs on offer. The canopy is a free-standing structure, so it can be placed anywhere in your outdoor space giving you maximum flexibility. The liberty, which is the roof component only, can be fixed to an existing structure or the popular papilio and duet roofs which both come with either aluminium or timber pergola structures. Designs come in tilted or curved structures, so the choice is yours!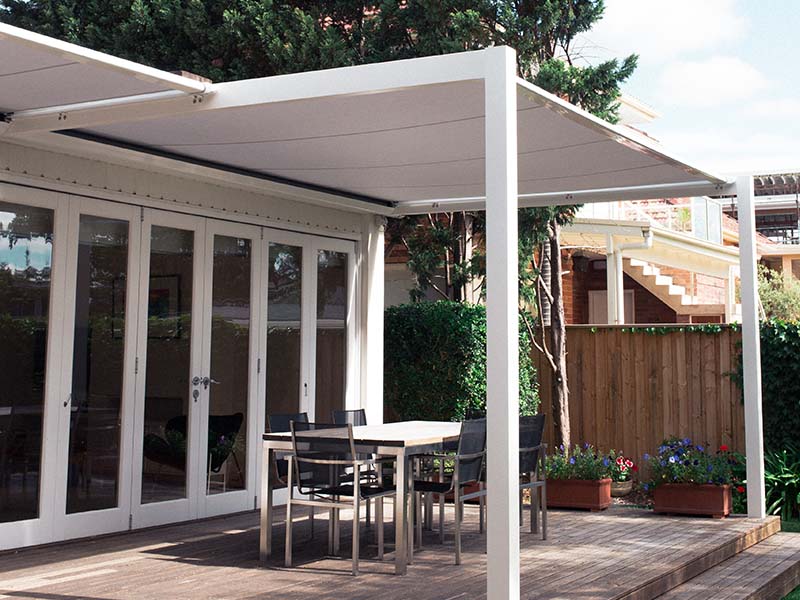 Retractable Awnings: Patio Awnings
A retractable patio awning is a perfect choice for someone who is after protection from the sun and heat. They are ideal for creating outdoor shade over a glass roof, under an existing pergola structure, on a patio or a balcony.
Patio awnings are made from corrosion-resistant materials, so you can hang out in the outdoors worry-free. And they're stylish, too! These awnings are made with a modern and sleek design to compliment any outdoor living space.
Being motorised, the retractable awning gives its users the full capability of controlling the shade and sun.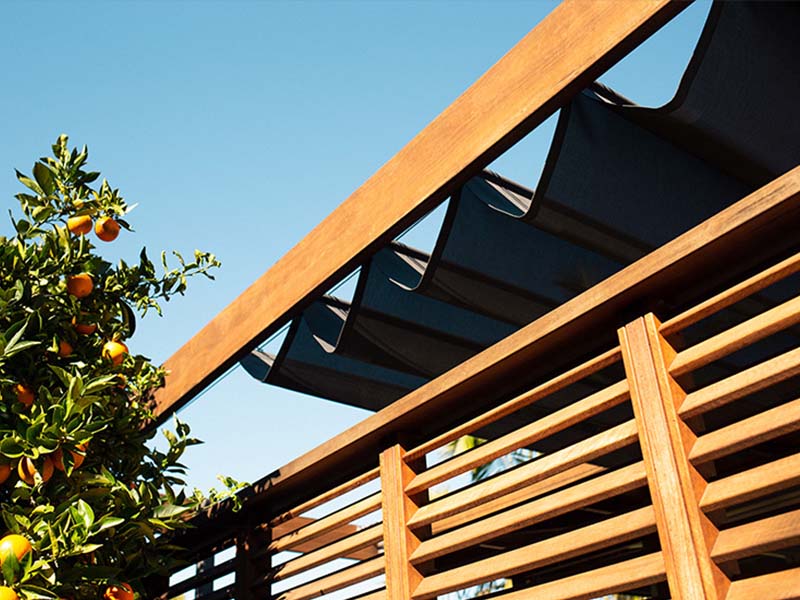 Shade Sails: Shaderunner®
For a more light-weight and cost-effective option, consider installing a Shaderunner® in your outdoor living space. The Shaderunner® extends and retracts in a concertina fashion along stainless steel guide wires. They can be retro-fitted to your existing timber or steel pergola for a customised look.
The shade sail generally comes with an easy manual operation but can be motorised. It's an awesome choice for someone wanting to shade a fun seating area or delicious grilling area.
This shade sail is great at protecting its users from harmful UV rays and is made with mildew and fire-resistant fabric!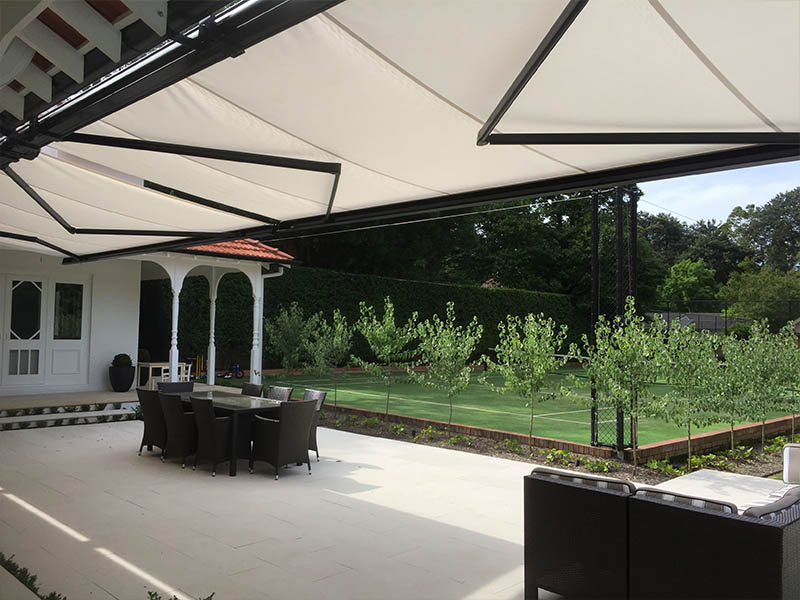 Awnings & Awning Recovers
More traditional type awnings include Drop Arm Awnings or Folding Arm Awnings. For those who prefer the simple awning look over a sail look, having a durable, retractable awning installed is ideal. Traditional awnings are great for providing shade without needing to build a supporting structure. They are either manually operated or motorised with remote or switchable operation.
As with all our shade systems, fabrics provide high UV protection and are treated against fungal growth, mould and resist dirt.
If you have an existing awning that is looking like it needs a little TLC, no worries. You can give your awning a new lease of life by replacing the fabric. With an extensive range of colours and fabric types to choose from, you can match your existing colour or go for a totally new look.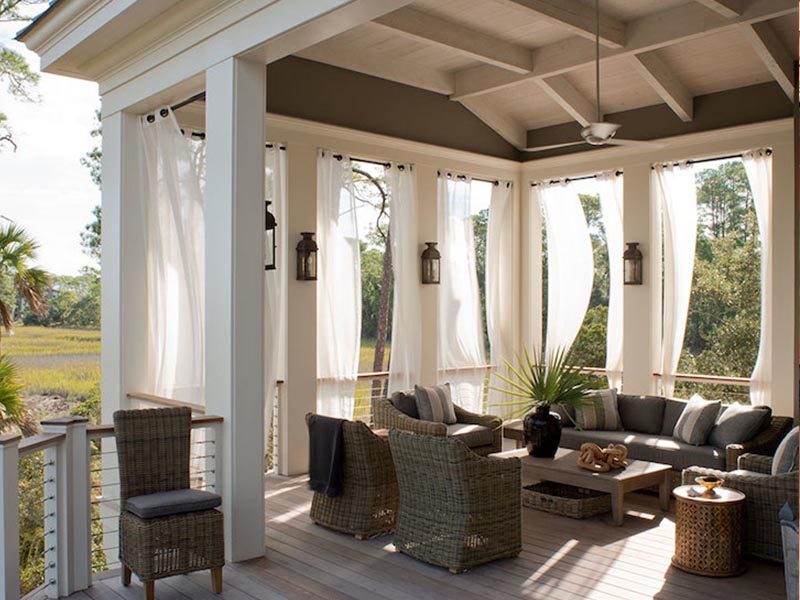 Outdoor Curtains 
Have you ever been to a water park and observed in awe the beautiful outdoor curtains wrapped around the expensive cabana rentals? The cabanas are gorgeous, but the outdoor curtains are what really add to the lavish, Carribean flair. And it's now possible to enjoy this luxury at your own home.
Custom made in Sydney, these outdoor curtains provide superlative shade in a stylish way. They blow in the breeze when let down on a windy day, or they show off their style while tied back on the sides. Not only do they protect its users from the sun as it lowers into the sky, but they also provide complete privacy.
They're an awesome choice for vertical sun protection on a sunny day and can even help keep those pests away!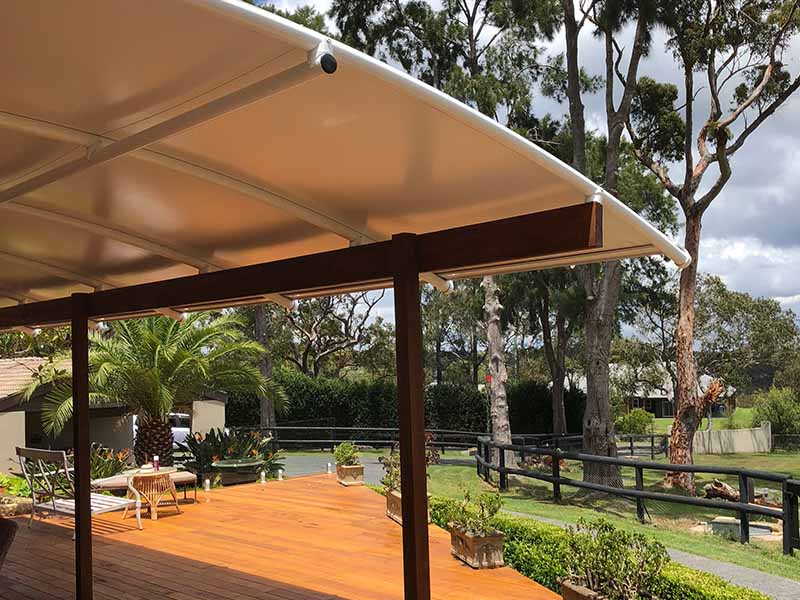 Shore Fixed Roof
Have young children that love playing outdoors on the playground in your back yard? Have a sitting area that doesn't get much attention due to lack of shade? The shore fixed roof might be the best solution for you.
The shore fixed roof is light-weight, curved fixed shading system. It's a great choice for playgrounds, carports, decks, courtyards, and more. But the sun isn't the only weather element that this outdoor shade structure protects from. Wind and rain are also no match when it comes to the shore fixed roof.
This canopy designed roof stretches to protect large areas of space – up to 12m wide and 7m projection – without the need for extra support inside of them. It can be mounted on custom-designed or existing structures to integrate with your home and outdoor area.
Outdoor Shade Solutions for Every Shade Seeker
If your scorching backyard or outdoor space is pleading to be shaded down, then you should consider installing your own outdoor shade solution. From retractable roofs to outdoor curtains, there's an option to satisfy anyone's outdoor shading needs. It's your space, and you want to get the most out of your outdoor living area.
Visit our contact page today to see what option is best for you. And start enjoying the outdoors more than you ever have before!
Out of Office Hours? We will call you back.