Commercial Awnings and Shades
Do you run your own restaurant, café, retail store, hotel, or commercial office? You'll be thrilled to know we provide commercial awnings for just about any Sydney business.
Take a look at our expansive product range. We guarantee you'll find one to match your commercial premise.
Don't worry… your professional design consultant is here to help.
Because we want you to get the most out of your investment, we take the time to personally come to visit you.
Your design consultant will listen to your ideas and ask questions about your premise. What do you like about the current area? How will you be using it? How can it be improved?
By understanding the reasons behind your installation, we give you professional advice and prepare a strategy to meet your business needs.
Our awnings and retractable shade systems will expand the use of your outdoor venue. By shielding the sun's UV rays or providing all-weather protection (sun, wind and rain), your patrons will be able to enjoy the outdoor space in comfort.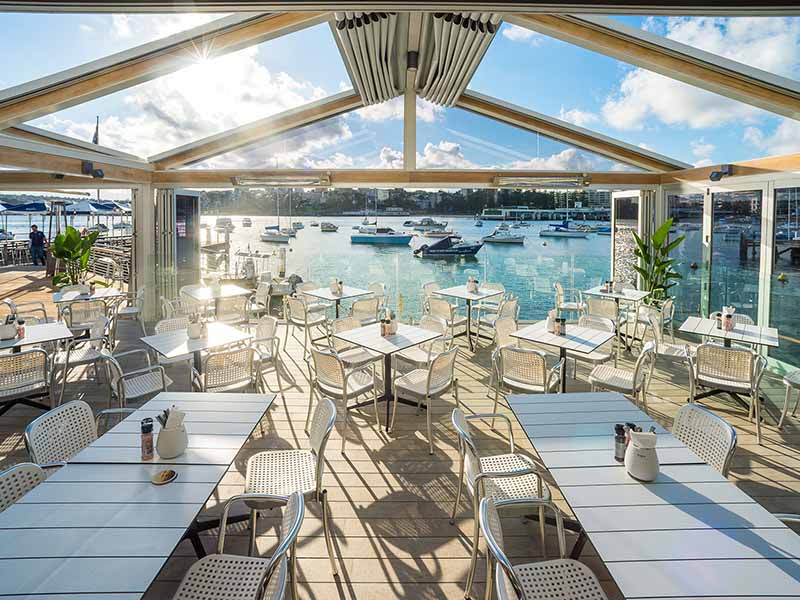 Manly 16ft Skiff Club, Manly – Retractable roofs cover 110sqm comprising of eight motorised systems individually operated. Each roof is approximately 13.75sqm with separate remote controls allowing for individual operation and customisation of light control for morning and afternoon sun. The steel frame which the roof systems are supported by was engineered to withstand the high winds common to harbourside areas. The new roofs continue the roof line of the original historic boat sheds, marrying the new and old. Lighting, heating and external glazing were incorporated to provide comfort and ambience to the patrons, essentially creating an outdoor room.
"The finished project is unbelievable! The retractable roof allows us to take advantage of different times of the day and all weather conditions to maximise the enjoyment of the space for our members and customers. It's great to be able to have the roof open once the sun starts going down and well into the evening allowing people to literally dine by the water under the stars. Our quietest months are now as busy as what our busiest months used to be. We should have done it years ago!" Secretary Manager, Manly 16ft Skiff Club, Manly
Shop Awnings
Forget the 'J' hooks of the old shop awnings.
Contemporary shop awning designs provide a smarter looking system to enhance any shop front whilst providing protection from the sun and keeping everything cool. This Australian designed and manufactured awning is custom-made to suit your premises. UV resistant Delrin fittings slide along stainless steel guide posts extending the fabric into a tight panel so that the awning is taut when extended.
Features Include:
Gear Box
Stainless Steel Brackets
Stainless Steel Guide Bars
Choice of a great range of acrylic and mesh fabrics to complement your premises
Crank handle for manual systems.
As with all of our products, you have the option to motorise your awning with either a switch or remote operation.
Sun and wind sensors are a great way to give you peace of mind that the awning will extend and retract depending on the weather conditions.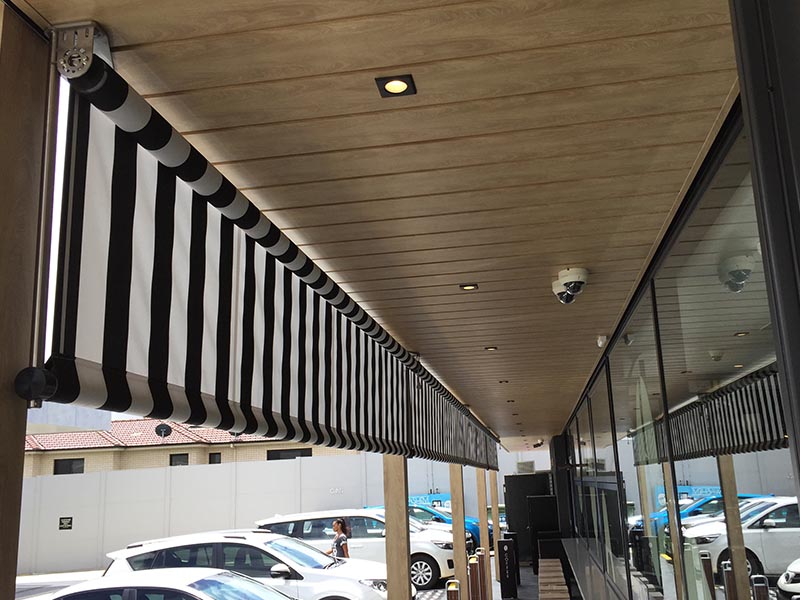 Bracing stays will keep your Aberdeen awning secure at all times. Aalta provides quality products and warrants that our shade systems and awnings will be installed free of any defects in materials and workmanship. Each product comes with a three to five year warranty for hardware and components and one year for labour.
The warranty covers the free repair (excluding labour and transport costs), of any components found to be non-compliant or otherwise faulty.
Out of Office Hours? We will call you back.