Create Your Perfect Outdoor space
Have you always dreamt of a custom outdoor living space which is completely unique to you and your home? Well Aalta can help you stop dreaming and turn your ideas into a real design.
While you might have an idea about what you want and the look you want to go for, you might not know how to actually create a space which not only looks amazing but works with your life.
One of these design decisions includes picking which type of shade structure will best suit your outdoor space, whether it is a retractable roof, shade sail or awning, Aalta can help choose the best shade cover for you.
Aalta can come to your home or business and go through their consultation and design process with you. If you want to learn more about this step, then read more about it here.
For custom outdoor living - there is really no better choice than Aalta!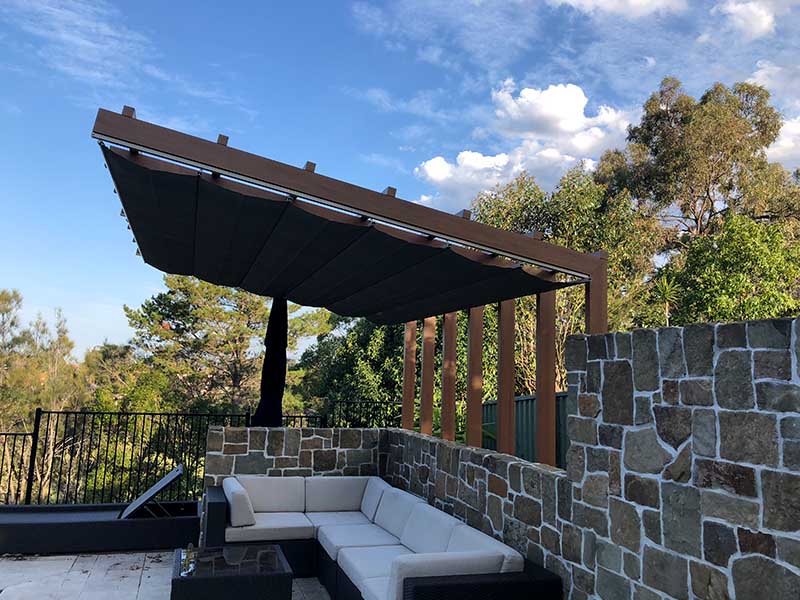 Retractable Roofs are Aalta's speciality - providing full weather protection without the need for heavy over-head structures.
Here are just a few benefits to choosing a retractable roof:
Can have the roof out when it is rainy, windy or too sunny and retract it on beautiful summer mornings or clear nights

A variety of options on the design of your roof including curved or tilted roofs, timber or aluminium pergola frames, and a fixed or retractable gutter

Full weather protection

Extends the living area of your property

All roofs are motorised for ease of operation and can be fitted with a rain sensor
Retractable Roof Options:
This is the roof component only and can be fitted to existing frames or custom frames supplied by Aalta or your builder.
The Papilio's pergola frame has posts and a front beam, with integrated guttering and downpipe. Aalta can provide the pergola frame in either powder coated aluminium or timber to suit your outdoor area.
The Duet is Aalta's signature roof. With dual posts, the pergola structure is strong enough to avoid the need for a heavy front beam. Aalta has custom designed a retractable guttering system so when the roof is retracted there is nothing to obscure your outlook. The Duet pergola can be either powder coated aluminium or timber.
The Canopy retractable roof is a free standing pergola structure, giving you flexibility as to where it is erected. The frame can be either powder coated aluminium or timber.
The Vista is a cantilevered roof system that utilises strong struts tied back to the building, removing the need for front posts and beams. Ideal for those who have a fabulous view that simply cannot be obstructed.
The above video shows on of Aalta's Liberty Retractable Roofs on a custom steel frame built by the client's builder. This beautiful home now has an extended living area - outdoors!
If a Retractable Roof is not for you, why not consider other shading options with our retractable awnings and shade systems.
Here are just a few benefits to choosing a retractable awning or shade systems:
Be protected from the harsh summer sun

Retract your awning or shade sail to enjoy an open sky

Make the most of the winter sun to warm your outdoor area by retracting your awning or shade sail

Extends the use of your outdoor area 

All awnings come with motorised options for ease of operation and can be fitted with a wind and/or rain sensor
1. Shade Sail Options
Shade sails can be installed in a variety of areas, can be used for large areas and protect people from harsh UV rays. Aalta's custom outdoor living designs allows you to choose from three types of shade sails.
This shade sail creates beautiful billowy sails and folds back neatly when retracted.
The retractable sail gives gorgeous nautical vibes.
This sail fits perfectly under timber or steel pergola structures.
2. Awning options
Aalta also has a wide variety of awnings and the best part about them is that they all retract and store away very neatly.
Perfect for when all you want is an aesthetically pleasing shade cover.
Brilliant addition to an already established outdoor setting such as a glass roofed area, over a pergola and in courtyards.
This awning is perfect if you are looking for a traditional aesthetic to suit your home.
Great for your balcony, veranda or window.

3. Blinds and Curtain options
Aalta's Curtains and blinds dress the inside of your home or business creating a fashionable look. These additions are also a great way to revamp a living area, give you some extra privacy, create a nice evening mood or even block wind and sun.
Why choose Aalta?
Aalta will design and make a beautiful custom outdoor living space for you. This third space will ensure you make the most of your property which is so important in Sydney as you can enjoy Australian weather all year-round.
Don't let the heat stop you from being outside and enjoying time with friends when you could be relaxing under one of our shade options with a cool drink and great company. Get in contact with the team at Aalta for your custom outdoor living design on (02) 80654911 or  info@aalta.com.au
Out of Office Hours? We will call you back.